Jun.-Prof. Dr. Christine Fertig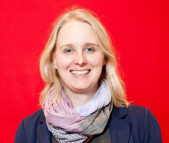 Christine Fertig is assistant professor at the University of Muenster, Germany. In her PhD she studied family strategies and social networks in northwestern German rural society between 1750 and 1900. She has published on rural history, history of the family, kinship and godparents, credit markets, intergenerational relations and on global trade and exotic substances in early modern Europe. Her current research interests include the development of consumption and the European encounter with the global world in the early modern period.
She is representative for Central Europe in the Management Committee of the European Rural History Organisation (since 2022), Network Chair for the Material and Consumer Culture section of the biannual European Social Science History Conference (since 2018), member of the scientific advisory board of the Rural History Yearbook, and as editor of the Encyclopaedia of Modern Times Online she is responsible for the sections "Economy" and "Lifestyles and Social Change".
Contact:
Room 341
Domplatz 20-22
48143 Münster
Tel.: +49 (251) 83-24380
christine.fertig@uni-muenster.de