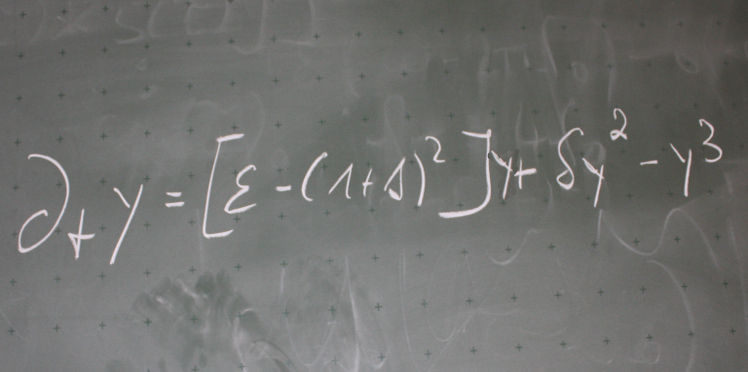 Das Center for Nonlinear Science (CeNoS) ist eine zentrale wissenschaftliche Einrichtung der Westfälischen Wilhelms-Universität Münster und besteht aus den beteiligten Arbeitsgruppen die im Moment sechs verschiedenen Fachbereichen angehören. Mitglied kann jede an der Thematik interessierte Arbeitsgruppe oder jede/r interessierte Wissenschafter/in der Universität Münster werden. Das CeNoS versteht sich als Dach für die grundlagenorientierte Forschung und Lehre an Fragestellungen zu nichtlinearen Systemen sowie für Anwendungen der Ergebnisse in verschiedenen Gebieten. Darüber hinaus dient es als Forum des interdisziplinären Dialogs zwischen Wissenschaftlern und Wissenschaftlerinnen verschiedener wissenschaftlicher Fachdisziplinen.
Introduction to machine learning

Machine learning and artificial intelligence are now playing a role in many areas of science, from astronomy to psychiatry. The interdisciplinary lecture is intended to serve as a first introduction to the methods of machine learning and their application in science.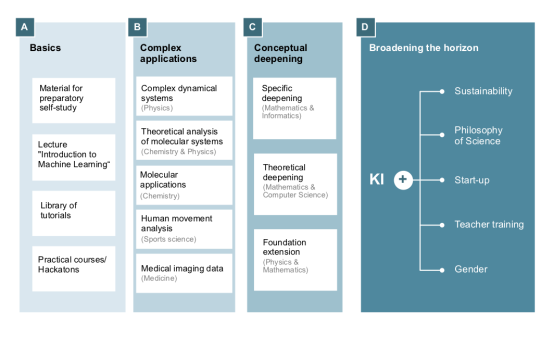 InterKIWWU

The aim of the project "Interdisciplinary teaching program on machine learning - InterKIWWU" is the development and testing of a graded university-wide course on machine learning and AI with basic, advanced and advanced modules. AI is taught as an interdisciplinary cross-sectional topic that is of fundamental importance for applications in business and administration as well as in basic research. The teaching program is intended to enable students to build up AI knowledge, apply it independently and transfer it to various areas of application in order to be optimally prepared for work as an AI specialist. The Center for Nonlinear Science (CeNoS) of the WWU coordinates the implementation of the project, in which the departments of mathematics and computer science, physics, chemistry and pharmacy, medicine, sports science and psychology are involved.


Website of the project

Press release