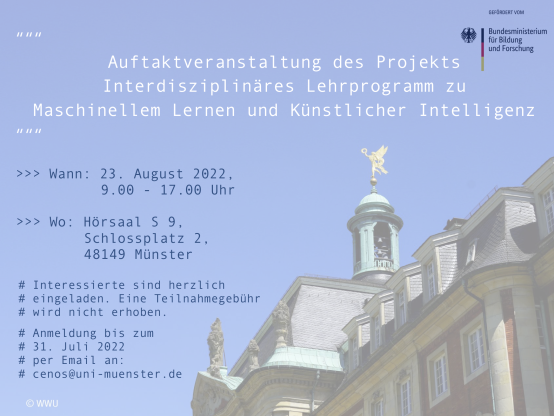 Here you find the schedule.
The Interdisciplinary Teaching Program on Machine Learning and Artificial Intelligence, in short InterKIWWU, is a project funded by the funding initiative "Künstliche Intelligenz in der Hochschulbildung" of the Federal Ministry of Education and Research with the aim to establish and test a graded university-wide teaching program on Machine Learning (ML) and Artificial Intelligence (AI). The teaching offers include introductory and advanced courses and teaching materials as well as courses on various societal issues related to AI.
Click here to go to the university's press release.
On the  teaching and learning platform, the teaching offers, teaching materials and software interfaces developed within the project will be made accessible and continuously expanded and updated. Further information on the project, the modular structure of the teaching program, and the people and institutions involved can be found here.