Application check-up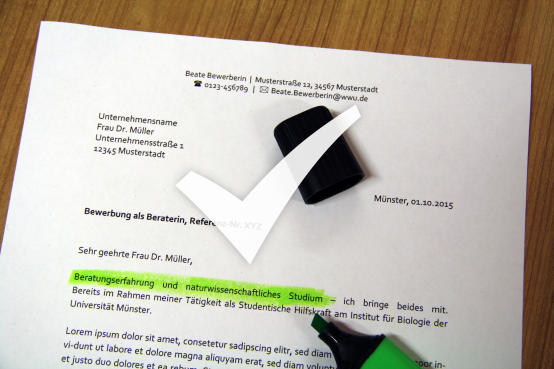 All students of the University of Münster and alumni (within one year after graduation) can receive an application check-up by the Careers Service for applications in Germany. We sit down with you, review your application and offer you feedback regarding the wording of your cover letter and your CV.
 After having a model application checked, you can usually apply the same strategies to further applications.

IMPORTANT!
In order to take advantage of this offer, it is imperative that you are thoroughly prepared. Please watch the following video, "Bewerbung für  Praktika und Stellen in Deutschland" (login with your university account). The video addresses the following topics:
Applications are about SELF-MARKETING
Different forms of applications (standard, short, email, online, attachments)
Photo and cover page
Structure of the application letter
Points of argumentation in the application letter  
Design of the CV
The more effectively you apply these strategies and information in your application documents, the more helpful the feedback will be during your appointment. In addition, the online course provides further material and information to help you prepare for the meeting.
Check-up hours
As a result of the measures taken to prevent the spread of corona, the does not offer any personal appointments at the moment. Please contact us via e-mail (see below), in order to set up an appointment via ZOOM or phone.
Duration of a check-up
Approx. 30 minutes
If neccessary, we will schedule a follow-up appointment with you.
What should I bring with me?
Please bring one printed application (cover letter, CV) and – if available – the job advertisement.
Who will conduct the application check-up?
Janna Rademacher, M.A.
Where does the check-up take place?
It will currently take place via phone or ZOOM.
How do I make an appointment?
Please contact us by e-mail janna.rademacher@wwu.de
Important:
The Careers Service only checks job and work-placement applications for positions in Germany – not for those applying for grants, admission to master's programmes etc.
For those applying for a job or work placement abroad, we offer special workshops in our semester programme and one-on-one counselling sessions [en].