Application documents checkup (English/French)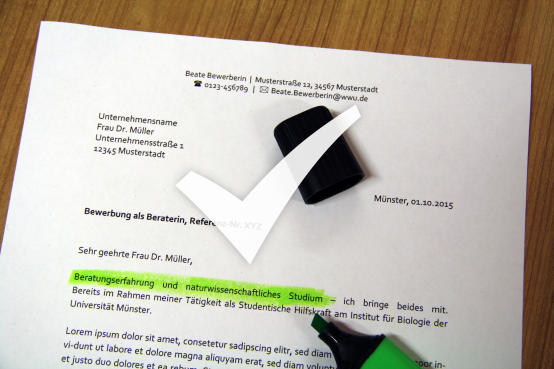 If you have already written an application in English or French, you can have these documents checked at the Careers Service. This checkup will mainly provide you with feedback on content and form of your application. It would be very useful if you also bring along the job advertisement you are referring to and/or the potential employer's profile. Please note: this checkup does not replace proofreading by a native speaker.
Please note: Until May 31, 2020, there will be no application checks. You may use our online services: https://www.uni-muenster.de/CareerService/infos/bewerbung/internationale-bewerbungen.html
Consultation hours:
Monday to Thursday on appointment via telephone. Please plan ahead!

Duration of a checkup:
Approx. 30 minutes.
How do I make an appointment?
Please contact us via telephone at 0251 83-32286 (Ruth Nolden)