News and announcements
In cooperation with Twentieth Century Fox, the Chair of American Studies would like to cordially invite you and your students to a free and exclusive preview screening of Three Billboards Outside Ebbing, Missouri (OV)*!
Join us on
January 18, 2018, 6 p.m. (doors open at 5.30 p.m.)
at the Cinema (Warendorferstr.), Saal 1.
*Three Billboards Outside Ebbing, Missouri is a 2017 British-American black comedy crime film written, produced, and directed by Martin McDonagh. It stars Frances McDormand, Woody Harrelson, Sam Rockwell, John Hawkes, and Peter Dinklage. It follows a mother who, when the police in her town fail to find a suspect in her daughter's murder, purchases three billboards to call public attention to the unsolved crime, polarizing the community.
The film has received wide acclaim from critics already and was named as one of the top 10 films of the year by the American Film Institute. Three Billboards received six 2017 Golden Globes nominations: Best Motion Picture – Drama, Best Director, Best Actress – Drama (McDormand), Best Supporting Actor (Rockwell), Best Screenplay, and Best Original Score.
The film is scheduled to be released in the Germany on January 25, 2018.
---
Call for Papers: Pop Hero and Action Princess? Negotiating Gender in Popular Culture Student Conference, Münster, January 12 – 13, 2018
Do Beyoncé, Nicki Minaj, or Miley Cyrus contribute to feminist* discourses? Are Sherlock and Dr. Watson more than friends? And can Thor be a woman? Popular culture has long since become an important medium of societal discourse. Being far more than mere expression of aesthetics, popular culture is a battleground where social and political power structures are inscribed and (re)affirmed, but can also be contested or challenged. In contrast to high culture products which are rather accessed by and made available to a small socioeconomic elite, the entanglement of popular culture with everyday life causes an often unintentional confrontation with gender roles and opens an immediate dialogue of gender negotiation. Society is structured inter alia by membership to a certain sex category and a societally constructed gender. More recently, however, the claim has been made that gender is always already linked to performance. As Candace West and Don Zimmerman have extensively argued, one 'does' gender: it is not biologically determined but rather configured by on-going performative acts. Judith Butler concluded that "[gender] identity is performatively constituted by the very 'expressions' that are said to be its results". Especially pop cultural 'expressions' of gender have the potential to provide insights into how power relations are encoded and perpetuated. Under the assumption that power is discursively constructed, the modes that are used to represent gender are crucial for understanding social and cultural practices. Representations of gender in popular culture thus transcend a purely mimetic reflection of power structures in our society, and instead partake actively in their production, by continuously influencing and subtly shaping performances of gender in everyday life. As powerful tropes in societal discourse(s), stereotypical references and their inversion can both oppress and empower as well as create subversive elements in daily performances of gender. This conference aims to address the role of gender in popular culture, how it is represented and read. The discussion will focus on the political power of such representations and their impact on cultural practices; their critical and subversive potential. In order to do so, we would like to engage with various aspects of popular culture and look forward to discussing gender (re-)presentations and performances in a range of different media, including Film, Music, TV, Literature, Comic, Social Media, and other online media. Potential topics of discussion may include, but are not limited to: - Configurations of gender performance(s) in popular culture - Fictional representations of heteronormativity and (toxic) masculinity - Interplay of different dimensions of discrimination represented in popular culture (Intersectionality) - Identity constructions between gender stereotypes and gender fluidity - The influence of Queer Studies and Feminism(s) on pop cultural gender representations - Body politics represented and negotiated in literature and other media - Political dimensions: (hegemonic) narratives of gender in popular culture?
This conference is organized by a small team of students in the field of Literary, Cultural and Media Studies at the English Seminar of the University of Münster. With the department's support, we intend to create a platform for students and young scholars to exchange ideas and discuss the influence of gendered representations in the ever more influential domain of popular culture. If you are a student interested in presenting a 20 minute talk at this conference, please submit a short proposal (max. 250 words) with a short biography and your current study program to genderpopculture@gmail.com by November, 10 2017. There will be no conference fee and presenting participants can apply for travel reimbursements. Technical equipment for presentations will be provided.
For more information, also see https://popheroactionprincess.wordpress.com/call-for-papers/.
American Studies at the WWU

Welcome to American Studies at the Westfälische Wilhelms-Universität Münster!

The American Studies program at Münster understands American Studies as transnational, transcultural, and interdisciplinary. We pay close attention to the United States as shaped by transnational and transcultural processes, both in the present and in the past. This entails a conception of American Studies as North American Studies; the study of Canadian literatures and cultures and the borderlands between the United States and Mexico is thus an integral part of what we address in our teaching and our research.

Our teaching activities cover a range of materials (such as literature, art, photography, film and, TV), theoretical approaches, and various time periods, from the 18th century to the present. In addition, we offer the opportunity for students to further develop their language skills and methodological tools for successful learning-, research-, and teaching experiences.

Our research focus is on ethnic and gender studies; our diverse interests include:

Ethnic literatures and cultures (in particular, African American, Native American, and Asian American Studies)
Gender Studies and Queer Studies
Cultural theory
Aging Studies
Autobiography
Visual culture
Urban Studies
Team: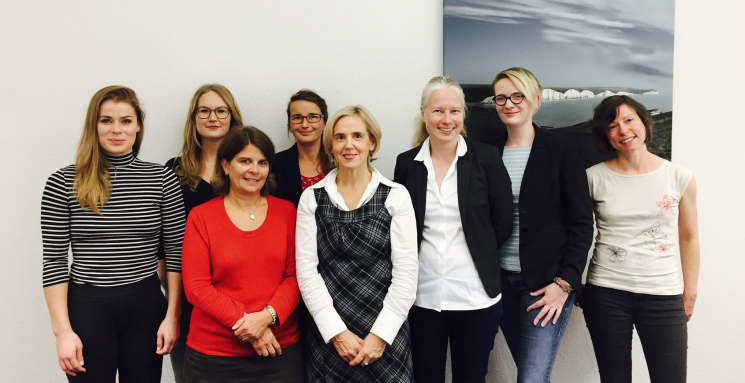 Publications
Publication:
Sarkowsky, Schultze, Schwarze (Hrsg.):  Migration, Regionalization, Citizenship - Comparing Canada and Europe
Publication:
Eric Erbacher, Nicole Maruo-Schröder, Florian Sedlmeier (eds.) Rereading the Machine in the Garden.
Nature and Technology in American Culture.
Further information
Stylesheet
---
Recent Events / Archive
---

October 24, 2017: Guest Lecture by Robert Warrior (University of Kansas) - Native Nations, Autonomy, and the Critique of Indigeneity

June / July 2017: Lecture Series "Thoreau at 200"
21.06.: Prof. Dr. Bernd Herzogenrath (Goethe Universität, Frankfurt): "A 'Meteorology of Sound:' From Thoreau to Cage and Beyond"
03.07.: Prof. Dr. Nicole Maruo-Schröder (Universität Koblenz): "Buying and Selling (Self-)Culture in Henry David Thoreau's Walden"
04.07. - 16.07.: Theatre performances of "Die Ausgrabung - Operation Thoreau"
February 20-21, 2017: International Conference "Citizenship and Literature: Past Concerns, Present Issues, Future Trajectories"


Prof. Dr. Ulla Haselstein, "Talking and Listening: Gertrude Steins Selbstporträts", February 7, 2017 at 2 pm in F2 (Fürstenberghaus, WWU Münster). Please note: The guest lecture will be held in German.
On November 8th, 2016, the American Studies' Team completes their U.S. Election 2016 event series with the Election Night: Live Broadcast of the 2016 Presidental Election! Join us at the Uferlos Live (Bismarkallee 11, Münster), starting at 10:00 pm. Everyone is welcome to attend!
Poster

Christian Lammert, Professor of North American Politics and Policy at the John F. Kennedy Institute (Freie Universität Berlin): "Trump, Clinton, and the Crisis of Democracy in the United States", October 25th at 6:00 pm in room ES 131.

PD Dr Katrin Brendt (University of Bremen): "Longing for Recognition: Global Citizens and the Urban Community in Dionne Brand's What We All Long For", Wednesday, July 6th, 10 am (ct), room ES 333.
 
Events surrounding the USA Presidential election organized by the Chair of American Studies:
 
June 14th, 6:00 pm (ct), ES 131 – "First as Tragedy then as Farce: Donald Trump and the US Presidential Election", Andrew Rowcroft from Lincoln University, UK
July 5th, 6:00 pm (ct), ES 131 – Film Screening and Discussion on Immigration: "An American House"

Laura Vorberg from the University of Erlangen: "Chances and Challenges of Campaign Communication in the Age of Social Media", Tuesday, May 24th 6:00 pm (ct), room ES 131. See poster for further information.
Ethan Rafal (http://www.ethanrafal.com) is an artist and photographer out of San Francisco whose work deals with the effects of terror, the individual and collective experience of violence, and the ways in which subsequent representations of violence inform personal and national mythologies in the United States.
 
At 6:00 pm on June 6th he will be presenting the result of his twelve-year, autobiographical project – Shock and Awe – which is a journal he completed over countless years of traveling throughout the United States. It examines the relationship between prolonged war and homeland decay and includes meticulously crafted images, texts, and objects found that blur the line between author and subject, and personal and authoritative histories.
 
Due to the interdisciplinary nature of the work, the book presentation is both a reading and a show-and-tell. Following the performance there will be an open discussion about the issues explored in the project.
The Life and Death of Martin Luther King - performed by the American Drama Group on November 16, 2015, starts at 19:30 at the Städtische Bühnen Münster.
Tickets start at 10 Euros. Further Information: http://www.theater-muenster.com/produktionen/the-life-and-death-of-martin-luther-king-2.html/ID_Vorstellung=2868
Reading and discussion: The Amerika Haus e.V. NRW in cooperation with the German-American Society Muenster e.V. presented a reading and talk with US author Tom Drury on April 16, 2015. At the LWL Museum für Kunst und Kultur Münster, Drury read from his 2006 novel, The Driftless Area. After the reading, Prof. Sarkowsky moderated the talk. Further infomation
Markus Nehl (University of Münster) - "Rethinking the African Diaspora: Lawrence Hill's Neo-Slave Narrative The Book of Negroes" (2007) January 22, 2015 | 12.15 p.m. | Audimax | English Seminar | Johannisstr. 12-20
Further information
Prof. Dr.David King Dunaway (University of New Mexico) - The Hidden Route 66
November 11, 2014 | 6 p.m. (CT) | ES 131 | English Seminar | Johannisstr. 12-20
Further information
Oana Godeanu-Kenworthy (Miami University, Ohio) - Citizens of a Global Empire: Imperial Allegiances in Early Canadian Literature
October 23, 2014 | 12 noon (CT) | Audimax | English Seminar | Johannisstr. 12-20
Further information
Daniel S. Malachuk (Western Illinois University) - Democracy, Conscience, and the Political Theory of American Transcendentalism
1 July 2014 | 6 p.m. c.t. | ES3 | English Seminar | Johannisstr. 12-20
Further information
Guest lecture: Prof. Dr. Astrid Fellner will hold a guest lecture focusing on "Border Crossings: Transhemispheric Approaches to American Literature" on June 17, 2014 at 4 p.m. (CT) in ES 3.
For further information, please see invitation poster.
Reading: Canadian novelist, poet, and scholar Larissa Lai will read at the English Department May 8, 6 p.m. (sharp) in ES 131. The reading is organized by the Chair of American Studies, WWU Münster.
For further information, please see the invitation poster.
Film screening: Fruitvale Station on May 7, 8:45 pm at the Cinema on Warendorfer Str. 45. After the screening, there will be an opportunity for a follow-up discussion at the Café Garbo.
Fruitvale Station is a feature film by the young American director Ryan Coogler based on the story of 29-year old African American Oscar Grant who was shot and killed by a police officer at the BART Fruitvale Station in Oakland, California in 2009. The film addresses issues such as racial discrimination and racist police violence as well as the power of digital media technology.
For further information, please see the invitation poster.
Guest lecture: Dr. Anna Thiemann (Münster) will give a lecture April 29, 4 p.m. (CT) in room ES 131, titled "Hip-Hop Feminism: Post-Feminism or Third Wave?".
For further information, please see the invitation poster.
Workshop: "Transcultural Autobiography"
This postgraduate workshop aimed to investigate the different facets of negotiating cultural practices and meaning-making systems of transcultural autobiographies, particularly those concerned with narratives of migration and/or experiences of cultural marginalization. It engaged the topic of transcultural autobiographies through the discussion of key issues of both participants' research projects as well as of theoretical approaches.
The workshop was organized by the Chair of American Studies, WWU Münster
April 9, 2014, 4 p.m. - April 10, 2014, 3 p.m.
For further information, please see the flyer.
Westfälische Wilhelms-Universität Münster Welcomes Ball State University.
10-11 February 2014