Dr. José Alejandro Matute Flores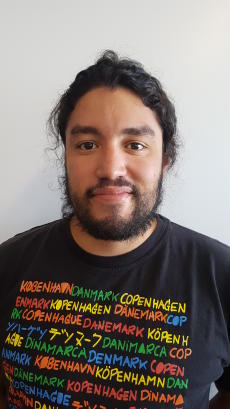 Dr. José Alejandro Matute Flores
Room 604a (Einsteinstr. 62, 48149 Münster)
Tel: 0251 83-33987
Publications
Computer Graphics Forum 41, No. 1: 335–349. doi: 10.1111/cgf.14438.
. 'Evaluating Data-type Heterogeneity in Interactive Visual Analyses with Parallel Axes.'
English World-Wide 42, No. 1: 54–84. doi: 10.1075/eww.00060.mee.
. 'Extending automatic vowel formant extraction to New Englishes: A comparison of different methods.'
.

. 'Hinted Star Coordinates for Mixed Data.' Computer Graphics Forum 39, No. 1. doi: 10.1111/cgf.13666.

.

. 'Scatterplot Summarization by Constructing Fast and Robust Principal Graphs from Skeletons .' Contributed to the PacificVis 2019, Bangkok, Thailand.
IEEE Transactions on Visualization and Computer Graphics 24, No. 1: 542–552. doi: 10.1109/TVCG.2017.2744339.
. 'Skeleton-Based Scagnostics.'
.

'Visual Stratification for Epidemiological Analysis.' contributed to the EuroVis 2017 Poster Proceedings, Barcelona, Spain, .

.

. 'Potential of Epidemiological Imaging for Image Analysis and Visualization Applications: A Brief Review.' In In Proceedings of 4th Int.Conf. on Mathematics and Computers in Sciences and Industry (MCSI 2017).

.

. 'Uncertainty visualization for interactive assessment of stenotic regions in vascular structures.' Computers & Graphics 69: 116–130.
.

'Visual Analysis of Mixed Numerical and Categorical Data in Cohort Studies.' contributed to the IEEE VIS Poster Proceedings, Baltimore, USA, .
.

. 'Mapping the Web resources of a developing country.' GI Zeitgeist 2012.