Professor Dr.
Franziska
Dübgen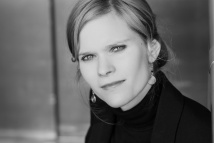 Participation in the Cluster of Excellence
Research Areas

Political Philosophy
Philosophy of Law; critique and justification of punishment
Critical Theory
Theory of Justice; Epistemic Injustice
Transcultural Philosophy (focus: Africa)
Critical Race Studies
Philosophy of Gender

CV

Education

–

Doctorate at the Philosophy Department of the J. W. Goethe University Frankfurt with Rainer Forst
Visiting Fellow an der New School for Social Research, New York

–

Scholarship holder at the Cluster of Excellence "The Formation of Normative Orders" at Goethe University Frankfurt

–

Master's degree: Philosophy, Political Science and Italian at the Humboldt University in Berlin

Positions

since

Ethikbeauftragte der WWU

since

Professor of Philosophy at the University of Münster - focus on Political Philosophy and Philosophy of Law

since

Visiting Lecturer at the Institute of Philosophy, University of Tunis, Tunisia

–

Head of the sub-project "Justice and the Critique of Occidentalism in Contemporary Political Theory in the Maghreb" of the DFG research project "Diversity, Power and Justice: Transcultural Perspectives" applied for jointly with Ina Kerner

–

Research assistant at the Institute for Cultural Studies at the University of Koblenz-Landau

–

Junior Research Group Leader of the Research Group "Beyond a Politics of Punishment" at the University of Kassel

–

Junior Fellow at the Lichtenberg-Kolleg, Göttingen

–

Junior Fellow at the Institute for Advanced Sustainability Studies e. V., Potsdam

–

Lecturer at the J. W. Goethe University in Frankfurt, the University of Kassel and the Humboldt University in Berlin

–

Research assistant at the Goethe University Frankfurt

External functions

since

Mitglied – Westfälische Wilhelms-Universität Münster (Lenkungskreis Diversity)

Publications

Books

Books (Monographs)

.

. Transformative Strafrechtskritik. Überlegungen im Anschluss an Nietzsches Vision einer neuen Gerechtigkeit. Tübingen: Mohr Siebeck Verlag.

.

. Paulin Hountondji. African Philosophy as Critical Universalism. London: Palgrave Macmillan.

.

. Theorien der Strafe. Hamburg: Junius.

.

. Was ist gerecht? Kennzeichen einer transnationalen solidarischen Politik. Frankfurt/M.: Campus Verlag.

.

. Jenseits des Stammesdenkens. Eine antirassistische Ethik bei Foucault und Lévinas. Saarbrücken: AV Akademikerverlag.

Books (Edited Collections)

(Eds.): . Afrikanische Politische Philosophie. Postkoloniale Positionen. Frankfurt/M.: Suhrkamp Verlag.

Articles

Research articles (journals)

Research articles (Book Contributions)

.

. 'Erwiderung auf Salah Mosbah.' In Toleranz in transkultureller Perspektive, edited by , 70–72. Weilerswist: Velbrück Wissenschaft.

.

. 'Rethinking the Law: Taking Clues from Ubuntu Philosophy.' In What's Legit? Critiques of Law and Strategies of Right, edited by , 157–175. Zürich: Diaphanes Verlag.