Eden? Plants between Science and Fiction
A Project by PhD Candidates and Master's Students of the Philologies at the WWU Münster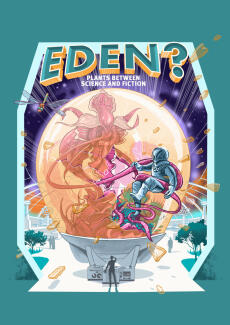 Imagine your basil suddenly started speaking or your Venus flytrap got a taste for human blood.
The exhibit Eden? Plants between Science and Fiction invites you to engage in such thought experiments. With the multimedia exhibition, on view in the Botanic Garden's Orangery from May 15-29, 2022, the curators explore the role of plants in science fiction literature and films.
Eden? focuses on notions of utopian gardens and deadly horror plants, as well as texts and films speculating on plant agency and intelligence. These include early German science fiction novels such as Alfred Döblin's Berge Meere und Giganten (1924), as well as classic films such as The Thing from Another World (1951) and contemporary English literature such as Sue Burke's Semiosis (2018).
Two questions are key to the exhibit: how does knowledge from botany find its way into literature? How does a possible plant intelligence change our view of the environment?
Current science fiction texts and films address pressing ecological challenges such as the climate catastrophe or present new forms of coexistence between plants and humans. In workshops and seminars with authors, scientists and cultural workers, doctoral students and undergraduates have examined contemporary science fiction in Western culture and conceived the exhibit.
The exhibit is aimed at science fiction experts, plant lovers, people interested in cultural studies, and anyone else who is curious. Thus, the exhibit contributes to science communication and the Third Mission of the University of Münster. In the fall of 2022, the exhibit will also be on display at the University of Arizona.
The project is supported by numerous people. In addition to those providing financial support, these include: Dr. Joela Jacobs, Dr. Julia Grillmayr, Dr. Sonja Vandenrath, Christoph Dittert, Sue Burke, Aliya Whiteley, Rebecca Buchanan, the Cultural Office of the University of Münster