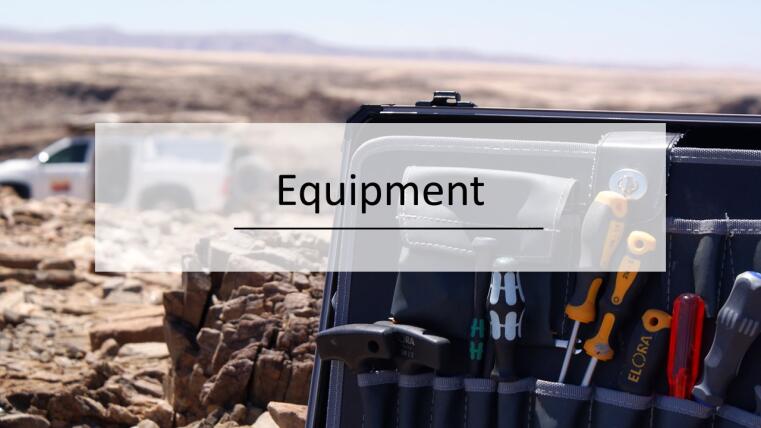 Near-surface geophysics

The equipment of the institute includes all common measuring instruments of applied geophysics. These are primarily used in teaching (field courses, final theses) and for various questions on near-surface exploration of the subsurface.

For refraction and reflection seismic investigations, multi-channel seismographs (Summit Compact, 72 channels, DMT) and various seismic sources (drop weights, shear wave source) are available.

For geoelectric measurements and measurements of induced polarisation (IP) effects, the institute has an IRIS Syscal Pro multi-electrode apparatus. In addition, the institute owns Terrameter SAS from ABEM for geoelectrical deep soundings and Lippmann 4-point devices for small-scale investigations.

EM31 (Geonics) and EM34 (Geonics) systems are used for electromagnetic mapping of the electrical conductivity distribution using the two-coil principle.

Proton precession magnetometers (G857, Geometrics), a caesium magnetometer (G858, Geometrics) and a potassium magnetometer (GSMP-35U, GEM Systems) are used for geomagnetic mapping.

A LaCoste&Romberg gravimeter (G56) is available for gravity measurements.

Ground penetrating radar (GPR) systems, such as the GSSI SIR 3000 and SIR 4000, in combination with GSSI antennas (200 MHz, 400 MHz, 900 MHz) and a digital dual-frequency antenna (300/800 MHz) complete the geophysical measurement systems.

Summit seismographs© Institut fuer Geophysik

EM31 instrument© Institut fuer Geophysik

ABEM Terrameter© Institut fuer Geophysik

Ground-penetrating-radar system from GSSI © Institut fuer Geophysik

MT/CSEM receivers

The equipment pool for magnetotelluric (MT) measurements consists of ADU-07e and ADU-08e data loggers (Metronix), MFS-06e and MFS-07e induction coils (Metronix), fluxgate magnetometers (Bartington/Metronix) and non-polarisable electrodes (self-made). In addition, the electronics workshop has developed its own data loggers (EDE) for telluric broadband measurements and for long-period magnetic field measurements with fluxgate magnetometers.

For drone-based semi-airborne EM flights, we use a specially configured ADU-08e (Metronix) in combination with SHFT-02e induction coils (super high-frequency induction coils, Metronix) and a fluxgate magnetometer (Bartington FGS-03e). In addition, we use optically pumped total field magnetometers (Geometrics MagArrow Magnetometer) for semi-airborne EM measurements.

MT station. The data logger (ADU-08e), GPS-antenna, coil and electrode cables as well as solar panels are shown. © Institut fuer Geophysik

Drone fleet

The working group owns multicopter UAS (Unmanned Aerial Systems) for geomagnetic and electromagnetic surveys. Our multicopter fleet consists of:

DJI S1000+ octocopter for geomagnetics with Geometrics MagArrow magnetometer.
MGT X-825 octocopter (Arealis/MGT) and self-built octocopter (both 25kg MTOW) for electromagnetic surveys with a Metronix data logger (ADU-08e) and a SHFT-02e sensor, as well as Geometrics MagArrow magnetometers.

MGT X-825 Octocopter with SHFT-02e sensor© Institut fuer Geophysik

MGT X-825 Octocopter with MagArrow from Geometrics© Institut fuer Geophysik

EM transmitter

For active EM measurements, an alternating electric current is injected into the ground via power sources and the induced electric and/or magnetic field is measured. We use this measurement principle both for purely ground-based measurements (controlled source EM) and in the semi-airborne EM configuration with our drone or helicopter systems.

The 22 kW transmitter TXM-22 (Metronix) is available as a high-power source.

Metronix power source© Institut fuer Geophysik

Other

For surveying tasks, differential GNSS devices (TOPCON and Emlid Reach RS2) and a total station are used (TOPCON). Portable GNSS devices (Garmin GPSMAP 65S) are also available.

For petrophysical investigations, susceptometers are available for field use (SM30 from ZH instruments) and in the laboratory (KLY-3 from AGICO, on loan from the Institute of Mineralogy) as well as a measuring station for permittivity (dielectric constant) with a network analyser (Keysight E5063A).