REcent Publications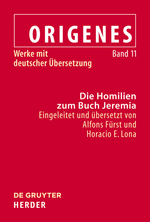 Origen - The Homilies on Jeremiah
Origen's homilies on Jeremiah make up a very valuable part of his writings. Beside the homilies on 1 Sam 28, they are the only homilies handed down in Greek and therefore give an impression of the original sound of the preacher Origen. Furthermore, the book Jeremiah was not often interpreted in early Christianity, and the vigour and spirit of Origen's exegesis of the prophet were nowhere else reached. Origen identified his experiences as a preacher with the fate of the prophet Jeremiah, who was rejected by his recipients, and thus found a very personal approach to this biblical text. Moreover, the numerous antijudaic comments and exegeses in which Origen's critical attitude toward the Jews of his time becomes apparent, are noteworthy.
The volume provides a new German translation along with detailed explanations in the footnotes. The handed down fragments are included, too, even though their authenticity is not undubitable. The most important facts of the transmission and the content of the sermons are outlined in the introduction.
Origenes, Die Homilien zum Buch Jeremia. Eingeleitet und übersetzt von Alfons Fürst und Horacio E. Lona (Origenes Werke mit deutscher Übersetzung 11), Berlin/Boston 2018, 726 Seiten, gebunden, Leinen, 119,95€, ISBN 978-3-11-028605-2
---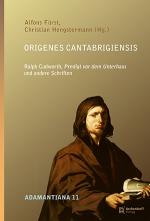 Adamantiana 11 - Origenes Cantabrigiensis
Ralph Cudworth, Sermon preached before the Honourable House of Commons and other writings
Ralph Cudworth's sermon preached before the Honourable House of Commons in 1674 is written in the spirit of Origen's philosophical thinking and contains a determined appeal for doctrinaire openness and religious tolerance. The articles of the present volume analyse this document of Cambridge Origenism which can be seen as pioneering within the context of the political and ecclesiastical confusions of the English Civil War. The volume offers beside the gently modernised text und the first german translation further letters and poems of the young Cudworth, and a sermon of 1664. These texts are vivid documents of his platonic-origenean "Philosphy of Religion" and of his irenic Christianity of interiority in practical ethos of universal love.
Alfons Fürst/Christian Hengstermann (Hg.), Origenes Cantabrigiensis. Ralph Cudworth, Predigt vor dem Unterhaus und anderen Schriften (Adamantiana 11), Münster: Aschendorff Verlag, 2018, 311 Seiten, gebunden, 54,- €. ISBN 978-3-402-13725-3


---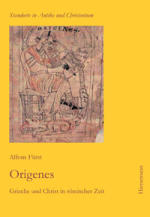 Sound biography on Origen by Alfons Fürst
The early Christian theologian Origen of Alexandria (185-253/4) put as a Greek thinker with excellent erudition and yet as a convinced Christian his broad scholarship into the service of the exegesis of the bible. Fürst examines basic aspects of this brilliant thinker like his relaptionship with Gnosticism, Judaism, exegesis and philosophy, and points out his role as one of the founders of Christian philosophy. This systematic biography on Origen ends with a chapter about the reception history.
Alfons Fürst, Origenes. Grieche und Christ in römischer Zeit (STAC 9), Stuttgart: Anton Hiersemann Verlag, 2017, 237 Seiten, Paperback, 44,-€.
ISBN 978-3-7772-1723-9

Works on Origen and His Heritage
Prof. Dr. Dr. Fürst's collected writings on Origen and his heritage can be seen here.