REcent Publications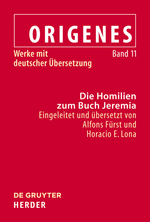 Origen - The Homilies on Jeremiah
Origen's homilies on Jeremiah make up a very valuable part of his writings. Beside the homilies on 1 Sam 28, they are the only homilies handed down in Greek and therefore give an impression of the original sound of the preacher Origen. Furthermore, the book Jeremiah was not often interpreted in early Christianity, and the vigour and spirit of Origen's exegesis of the prophet were nowhere else reached. Origen identified his experiences as a preacher with the fate of the prophet Jeremiah, who was rejected by his recipients, and thus found a very personal approach to this biblical text. Moreover, the numerous antijudaic comments and exegeses in which Origen's critical attitude toward the Jews of his time becomes apparent, are noteworthy.
The volume provides a new German translation along with detailed explanations in the footnotes. The handed down fragments are included, too, even though their authenticity is not undubitable. The most important facts of the transmission and the content of the sermons are outlined in the introduction.
Origenes, Die Homilien zum Buch Jeremia. Eingeleitet und übersetzt von Alfons Fürst und Horacio E. Lona (Origenes Werke mit deutscher Übersetzung 11), Berlin/Boston 2018, 726 Seiten, gebunden, Leinen, 119,95€, ISBN 978-3-11-028605-2
---
Adamantiana 11 - Origenes Cantabrigiensis
Ralph Cudworth, Sermon preached before the Honourable House of Commons and other writings
Ralph Cudworth's sermon preached before the Honourable House of Commons in 1674 is written in the spirit of Origen's philosophical thinking and contains a determined appeal for doctrinaire openness and religious tolerance. The articles of the present volume analyse this document of Cambridge Origenism which can be seen as pioneering within the context of the political and ecclesiastical confusions of the English Civil War. The volume offers beside the gently modernised text und the first german translation further letters and poems of the young Cudworth, and a sermon of 1664. These texts are vivid documents of his platonic-origenean "Philosphy of Religion" and of his irenic Christianity of interiority in practical ethos of universal love.
Alfons Fürst/Christian Hengstermann (Hg.), Origenes Cantabrigiensis. Ralph Cudworth, Predigt vor dem Unterhaus und anderen Schriften (Adamantiana 11), Münster: Aschendorff Verlag, 2018, 311 Seiten, gebunden, 54,- €. ISBN 978-3-402-13725-3


---

Sound biography on Origen by Alfons Fürst
The early Christian theologian Origen of Alexandria (185-253/4) put as a Greek thinker with excellent erudition and yet as a convinced Christian his broad scholarship into the service of the exegesis of the bible. Fürst examines basic aspects of this brilliant thinker like his relaptionship with Gnosticism, Judaism, exegesis and philosophy, and points out his role as one of the founders of Christian philosophy. This systematic biography on Origen ends with a chapter about the reception history.
Alfons Fürst, Origenes. Grieche und Christ in römischer Zeit (STAC 9), Stuttgart: Anton Hiersemann Verlag, 2017, 237 Seiten, Paperback, 44,-€.
ISBN 978-3-7772-1723-9
---
Adamantiana 10 – Origen in France
Pierre Daniel Huet's Origeniana
Origeniana is considered a milestone in the academic history and research on the Christian philosopher Origen, published in 1668 by the French scholar Pierre Daniel Huet (1630-1721). The three volumes contain the first academic analyses of the life, teachings and writings of Origen. Huet was, however, critical of Origen's philosophy of reason. Contrary to the rationalism of René Descartes' cogito ergo sum, Huet advocated a form of radical skepticism, whose distrust of reason led to equally radical fideism, in which faith is considered superior to reason. It is from this perspective that Huet criticized Origen's efforts towards a rational understanding of Christianity; with his excessive emphasis on reason and the freedom established therein, the Alexandrinian had led theology down the wrong path. Despite his personal dissent, Huet nonetheless defended Origen from the many unjustified and exaggerated accusations often made against the philosopher throughout the history of Origenism, presenting the latters' thoughts and critically and objectively reflecting upon them utilising scientific methods.
Alfons Fürst (ed.), Origenes in Frankreich. Die Origeniana Pierre-Daniel Huets (Adamantiana 10), Münster: Aschendorff Verlag, 2017, 390 Seiten, gebunden, 59,- €. ISBN 978-3-402-13723-9
---
Jerome - Asceticism and Scholarship in Late Antiquity
A choleric with misanthropist tendencies, a militant propagator of the ascetic ideal, a versatile and productive author, a master of languages, an industrious translator and an inventive scholar – these are all accurate descriptions of Church Father St. Jerome (347-419). Jerome was an eccentric. Hailing from the province of Dalmatia, he made his career in the metropolises of Late Antiquity (Rome, Constantinople, Antioch), but returned to provincial life in the second half of his life – this time to Bethlehem in Palestine. Thanks to his knowledge of Hebrew, he was the only theologian of his time who managed to provide the Jewish understanding of the Bible to the Christian exegesis. 
Alfons Fürst describes the theological controversies Jerome was caught up with during his lifetime (Arianism, Origenism, Pelagianism), discusses his contribution to the spread of the Christian-ascetic lifestyle, especially among women within the Roman aristocracy, and illustrates his innovative scholarly achievements as translator and interpreter of the Bible. In this volume, the manifold social connections which framed Jerome's life are depicted for the first time as a prosopographic study. Selected texts (Latin-German) deliver immediate insight into his works.
Alfons Fürst, Hieronymus - Askese und Wissenschaft in der Spätantike, Freiburg im Breisgau: Verlag Herder, 2016, 448 Seiten, gebunden, ca. 39,99 €, ISBN: 978-3-451-31144-4
---
Origen - The Homilies and Fragments on the Songs of Songs
With his exegesis on the Song of Songs, Origen surpassed himself – it was with this praise that Jerome endorsed the Christian genius from Alexandria, and to this end, translated two of the former's sermons on the biblical song of love into Latin. His exegesis was written in the form of a Commentary, with Rufinus' Latin translation and small yet numerous fragments of the Greek originals surviving.
Alfons Fürst/Holger Strutwolf, Origenes - Die Homilien und Fragmente zum Hohelied (Origenes Werke mit deutscher Übersetzung 9/2), Berlin/Boston: Verlag Walter de Gruyter, Freiburg/Basel/Wien, 2016, 288 Seiten, gebunden, Leinen, ca. 69,95 €. ISBN De Gruyter 978-3-11-046440-5

---
Origen - The Commentary on the Song of Songs
In his Commentary on the Song of Songs, with which he, according to Jerome, surpassed himself, Origen interprets the dramatic narration of the love between bride and groom as the relationship between the Divine Word and the human soul, respectively Christ and the Church. Since, in Origen's ecclesiology, the Church represents a collective person formed by the souls of the faithful, the lines between the two interpretations often converge or become indistinguishable. In the course of the exegesis, basic concepts of Christian spirituality are explained in depth, such as the notion of love, the order of love or the understanding of the self as a way to understanding God. The foundation of the exegesis is based upon the Song of Songs being the highest stage of Christian philosophy, where the fully-realized soul attains the vision of God. This interpretation has influenced the Christian exegesis of the Song of Songs, which until the Middle Ages consists of nothing but mere references to Origen. This volume contains the first German translation of the Commentary, with extensive annotations.
Alfons Fürst/Holger Strutwolf, Origenes - Der Kommentar zum Hohelied (Origenes Werke mit deutscher Übersetzung 9/1), Berlin/Boston: Verlag Walter de Gryuter, Freiburg/Basel/Wien: Verlag Herder, 2016, 481 Seiten, gebunden, Leinen, ca. 99,95 €. ISBN Herder 978-3-451-32913-5, ISBN De Gruyter 978-3-11-044255-7
---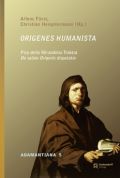 Adamantiana 5 - Origenes Humanista
Pico della Mirandola's Treatise De salute Origenis disputatio
The works of Origen were an important source of inspiration for the intellectual awakenings of the Renaissance and Humanism, developments in which the oration On the Dignity of Man from 1486 by Giovanni Pico della Mirandola (1463-1494) plays a central role. In his discourse published posthumously in 1496, man, by virtue of his freedom, determines his own position in the cosmos. This capacity for self-determination is the basis of his responsibility for his actions and constitutes his dignity. Pico also comments on Origen in his Nine Hundred Theses from 1486, that it is more reasonable to assume Origen was redeemed than to suppose he was condemned. As this was one of the statements for which he was accused of heresy, he defended himself and Origen in his treatise A Disputation about Origen's Salvation, the first extensive apologia of the genius from Alexandria since antiquity.
Alfons Fürst/Christian Hengstermann (Hg.), Origenes Humanista. Pico della Mirandolas Traktat De salute Origenis disputatio (Adamantiana 5), Münster: Aschendorff Verlag, 2015, 464 Seiten, gebunden, 62,- €. ISBN 978-3-402-13715-4
---
Origen - The Homilies on the First Book of Samuel

Of Origen's sermons on the Books of Samuel and the Book of Kings, only a few fragments survive. Amongst these is the famous homily on the "witch" of Endor (1 Sam 28) with thoughts on Jesus' descent into Hell. This volume contains the first German translation including extensive annotations. Furthermore, the introduction explains the most important pieces of information regarding the tradition and the content of this homily.
Alfons Fürst, Origenes - Die Homilien zum ersten Buch Samuel (Origenes Werke mit deutscher Übersetzung 7), Berlin/Boston: Verlag Walter de Gruyter, Freiburg/Basel/Wien: Verlag Herder, 2014, 318 Seiten, gebunden, Leinen, ca. 79,95 €. ISBN Herder 978-3-451-32908-1, ISBN De Gruyter 978-3-11-030088-8
---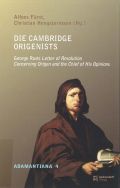 Adamantiana 4 - The Cambridge Origenists
George Rust's Letter of Resolution Concerning Origen and the Chief of His Opinions
The years 1658-62 represent something like an Origenist stage in English theology, producing not only translations and work editions but entire philosophical systems in the spirit of Origen. The anonymously published writings by the Anglican Bishop George Rust in 1661 are a manifesto of modern Origenism; in critically arguing with the new philosophies of those such as Hobbes or Descartes on one hand and Calvinist theology on the other, Rust further develops fundamental insights by Origen in an original manner.
Alfons Fürst/Christian Hengstermann (Hg.), Die Cambridge Origenists. George Rusts Letter of Resolution Concerning Origen and the Chief of His Opinions (Adamantiana 4), Münster: Aschendorff Verlag, 2013, 384 Seiten, gebunden, 52,- €. ISBN 978-3-402-13714-7
---
Anne Conway's Principia Philosophiae
Criticism of Materialism and Speculation on All-Encompassing Unity in Early Modern England
The Principia Philosophiae of the philosopher Anne Conway (1631-79) follows the tradition of Anglo-Saxon Idealism founded by the 'Cambridge Platonists'. The treatise covers the fundamental metaphysical questions of 17th Century philosophy, most notably those regarding the relation between mind and matter, between the finite world and the infinite absolute. This volume, the first German publication on the subject, introduces the reasoning of the Cambridge Platonists, the life and works of Anne Conway, and provides an overview of the central topics in her Principia Philosophiae.
Christian Hengstermann/Ulrike Weichert (Hg.), Anne Conways Principia Philosophiae. Materialismuskritik und Alleinheits-Spekulation im neuzeitlichen England (Pontes 52), Berlin: LIT Verlag, 2012, 188 Seiten, 19,90 €. ISBN 978-3-643-11236-1
---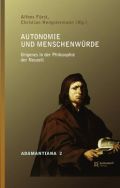 Adamantiana 2 - Autonomy and Human Dignity
Origen in Early Modern Philosophy
Emphasizing the moral autonomy of man, his inalienable dignity as the image of God, and the perspective of hope for universal salvation, Origen's (185-253/54) theology has had a major impact on Early Modern thought; European humanism, the Cambridge School's Platonism and German classical philosophy have all drawn from Origen's ideas and further developed upon them. Highlighting key paradigms from the modern history of philosophy and theology, the second volume of the Adamantiana series traces the legacy of the Alexandrian scholar up to present day. Thus, Origen proves himself to be a significant forefather of modern thought regarding autonomy and human dignity.
Alfons Fürst/Christian Hengstermann (Hg.), Autonomie und Menschenwürde. Origenes in der Philosophie der Neuzeit (Adamantiana 2), Münster: Aschendorff Verlag, 2012, 307 Seiten, gebunden, 42,- €. ISBN 978-3-402-13711-6
---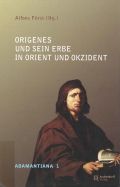 Adamantiana 1 - Origen and his Legacy in the Orient and Occident
Through his works as a teacher, exegete and philosopher, the Alexandrian Origen (185-253/254) laid the foundations of a Christian culture. One of the first Christian theologians, he engaged in the philosophical and religious discussions of his time at the highest intellectual level. Due to the breadth and boldness of his thought, Origen has not only had a major impact on all ecclesiastical traditions deriving from Late Antiquity, but was also a profound influence on the history of philosophy. The new Adamantiana series, opening with this volume, is dedicated to Origen's thinking as well as to its legacy throughout the Orient and Occident, aiming to make it accessible for academic research in a wide range of disciplines.
Alfons Fürst (Hg.), Origenes und sein Erbe in Orient und Okzident (Adamantiana 1), Münster: Aschendorff Verlag, 2011, 266 Seiten, gebunden, 39,- €, ISBN 978-3-402-13710-9



---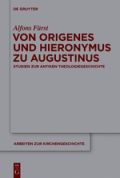 From Origen and Jerome to Augustine
This volume offers insights into the works of three leading ancient theologians, and departs from the beaten paths of Christian dogma's history. With his anthropology of freedom, Origen established the exegesis and theology of his time, laying the foundations of a Christian culture. Jerome, as the greatest philologist of the Old Church, and thanks to his knowledge of Hebrew and Greek, transferred Greek and Jewish knowledge of the Bible into the Latin West with his translations and commentaries. Augustine, although influenced by both, critically disputes their reasoning and thus develops an independent and significant Latin theology.
Alfons Fürst, Von Origenes und Hieronymus zu Augustinus. Studien zur antiken Theologiegeschichte (Arbeiten zur Kirchengeschichte 115), Berlin/New York: Verlag Walter de Gryuter, 2011, 536 Seiten, gebunden, 109,95 €. ISBN 978-3-11-025103-6
---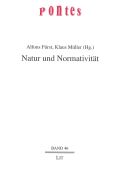 Natur und Normativität
The recourse to Natural Law, long taken for granted in Catholic thought, has by now become exhausted as a line of reasoning. However, the underlying arguments have not been sufficiently dealt with. This issue continues to arise today in the struggle to establish a 'dense' definition of nature. The contributions of this volume follow this discourse from both a historical and systematic perspective.
Alfons Fürst/Klaus Müller (Hg.), Natur und Normativität (Pontes 46), Berlin: LIT Verlag, 2010, 108 Seiten, 19,90 €, ISBN 978-3-643-10803-6


---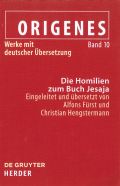 Origenes - The Homilies on the Book of Isaiah

In this volume, Origen's seldom acknowledged homilies on Isaiah have been translated into German and provided with individual explanations as well as an extensive introduction. In the nine sermons preserved in Latin, the Alexandrian theologian analyses complex biblical motifs such as Israel's stubbornness and Isaiah's visions of God and the seraphim. Thus, within the context of a rich biblical and non-biblical tradition, which Origen deliberately connects with his exegesis and influenced by contemporary Platonic thought, a decidedly multi-layered account of the Book of Isaiah emerges, significantly contributing to the history of the interpretation of this key biblical text, as well as to the understanding of Origenian theology. Alongside questions concerning the historical tradition and reception of the text, the introduction also sheds light on the particularly complex background of Origen's interpretation of Isaiah. The appendix also includes the collected testimonials to Origen's lost Commentary on the Book of Isaiah, along with Theophilus of Alexandria's original and translated treatise against Rigen's exegesis, written during the first Origenian controversy.
Alfons Fürst/Christian Hengstermann, Origenes - Die Homilien zum Buch Jesaja (Origenes Werke mit deutscher Übersetzung 10), Berlin/New York: Verlag Walter de Gruyter, Freiburg/Basel/Wien: Verlag Herder, 2009, 400 Seiten, gebunden, Leinen, 104,95 €. ISBN 978-3-11-021509-0

---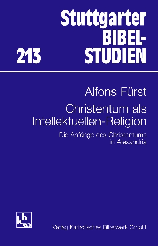 Christianity as a Religion of Intellectuals

The Beginnings of Christianity in Alexandria

Antique Christianity was not a religion restricted to the lower classes of society. Particularly in the metropolis of Alexandria, all Christians of the 2nd, and first half of the 3rd Century, who we nowadays know by name, were intellectuals, well-educated by contemporary standards and who construed their religious beliefs via their means of reasoning. Christianity in Alexandria began as a religion of and for intellectuals in the upper echelons of society, only becoming a religion of the masses with the passage of time. It is in this context that this report analyses the historical sources surrounding the beginnings of Christianity in Alexandria and Egypt. The appendix contains the first German translation of the of the three oldest potentially-Christian papyrus letters from the 2nd Century.
Alfons Fürst, Christentum als Intellektuellen-Religion. Die Anfänge des Christentums in Alexandria (Stuttgarter Bibel-Studien 213), Stuttgart: Katholisches Bibelwerk, 2007, 126 Seiten, Einband kartoniert, 22,80 €. ISBN 978-3-460-03134-0