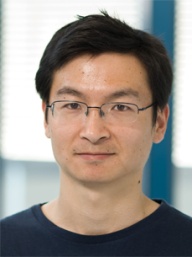 Research Areas

Plant evolutionary ecology

CV

Education

-

-

Master

-

Bachelor, China Agricultural University, Beijing, China

Positions

Publications

.

. 'Genotyping-by-Sequencing for Species Delimitation in Lemna Section Uninerves Hegelm. (Lemnaceae).' In The Duckweed Genomes, edited by , 115-123. Cham. doi: 10.1007/978-3-030-11045-1_11.

.

. 'Allelic differences of clustered terpene synthases contribute to correlated intra-specific variation of floral and herbivory-induced volatiles in a wild tobacco.' New Phytologist na, No. na. doi: https://doi.org/10.1111/nph.16739.

.

. 'An improved high-quality genome assembly and annotation of Tibetan hulless barley.' Scientific Data 7, No. 1: 139-.

.

. 'Auxin is rapidly induced by herbivore attack and regulates a subset of systemic, jasmonate-dependent defenses.' Plant Physiology 172, No. 1: 521-32. doi: 10.1104/pp.16.00940.

.

. 'Evolution of herbivore-induced early defense signaling was shaped by genome-wide duplications in Nicotiana.' eLife 5. doi: 10.7554/eLife.19531.

.

. 'Pollinator shifts between Ophrys sphegodes populations: might adaptation to different pollinators drive population divergence?' Journal of Evolutionary Biology 26, No. 10: 2197-208. doi: 10.1111/jeb.12216.

.

. 'Transcriptome and proteome data reveal candidate genes for pollinator attraction in sexually deceptive orchids.' PLoS One 8, No. 5: e64621. doi: 10.1371/journal.pone.0064621.

.

. 'The genetic basis of pollinator adaptation in a sexually deceptive orchid.' PLoS Genetics 8, No. 8: e1002889. doi: 10.1371/journal.pgen.1002889.

.

. 'Stearoyl-acyl carrier protein desaturases are associated with floral isolation in sexually deceptive orchids.' Proceedings of the National Academy of Sciences of the United States of America 108, No. 14: 5696-701. doi: 10.1073/pnas.1013313108.

.

. 'Floral isolation is the main reproductive barrier among closely related sexually deceptive orchids.' Evolution 65, No. 9: 2606-20. doi: 10.1111/j.1558-5646.2011.01323.x.

.

. 'Pollinator-driven speciation in sexually deceptive orchids.' International Journal of Ecology 2012. doi: https://doi.org/10.1155/2012/285081.

.

. 'Detection of HPV-2 and identification of novel mutations by whole genome sequencing from biopsies of two patients with multiple cutaneous horns.' Journal of Clinic Virology 39, No. 1: 34-42. doi: 10.1016/j.jcv.2007.01.002.

.

. 'High altitude adaptation and phylogenetic analysis of Tibetan horse based on the mitochondrial genome.' Journal of Genetics and Genomics 34, No. 8: 720-9. doi: 10.1016/S1673-8527(07)60081-2.

.

. 'Complete sequence and gene organization of the Tibetan chicken mitochondrial genome.' Yi Chuan 28, No. 7: 769-77.

.

. 'A mitochondrial genome sequence of the Tibetan antelope (Pantholops hodgsonii).' Genomics Proteomics and Bioinformatics 3, No. 1: 5-17.