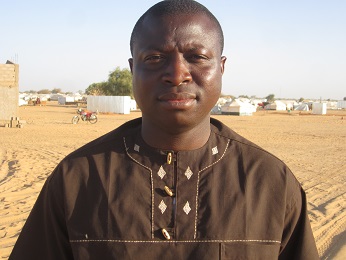 Dr. Souleymane Diallo
Westfälische Wilhelms-Universität Münster
Institut für Ethnologie
Studtstraße 21
D-48149 Münster
Tel.: + 49 251 83-27314
 
sdiallo[at]uni-muenster.de
Aktuelle Forschung

Mein aktuelles Projekt mit dem Titel "Constructing religious authority and transnational Muslim community in the militarized border zone of Mali/ Niger" untersucht, wie die zunehmende Unsicherheit und die damit verbundenen internationalen Bemühungen um "Securitization" im Kontext des Globalen Krieges gegen den Terror in der Sahara und der nördlichen Sahelzone die Konstruktionen religiöser Autorität, eigener muslimischer Identität und transnationaler Gemeinschaft in der militarisierten Grenzzone von Mali und Niger beeinflussen. Zu diesem Zweck konzentriert sich das Projekt auf die religiösen Selbstverständnisse, Diskurse und Praktiken sowie die grenzüberschreitenden wirtschaftlichen Aktivitäten der Dabakkar, einer muslimischen Gruppe, die, zentriert auf ihren spirituellen Leiter, shaykh Abdousalam ag Mohammadan, außerhalb des Radars des wissenschaftlichen Interesses und der Untersuchung geblieben ist. Durch die Auseinandersetzung mit der hochaktuellen Frage, wie sich die Militarisierung der Westsahara/Sahel auf die religiöse Autorität und Identität der Muslime in der Region auswirkt, und durch die Fokussierung auf die Praktiken und das Verständnis einer Tuareg-Statusgruppe, deren ausgeprägte soziale und religiöse Praktiken des spirituellen Pfades der Tijanyya bisher unbeachtet geblieben sind, füllt das Projekt eine wichtige Lücke in der Wissenschaft über den Islam in Westafrika. Es behebt den konventionellen engen wissenschaftlichen Fokus auf edle religiöse Tuareg-Clans, ihre religiöse Expertise und Autoritätsbezeugungen. Indem es die sich wandelnden Vorstellungen und materiellen Praktiken der Dabakkar von religiöser Autorität, Gemeinschaft und echtem Muslimsein unter den gegenwärtigen Bedingungen physischer, materieller und politischer Unsicherheit untersucht, stellt das Projekt die wissenschaftliche Debatte über muslimische Religiosität und Autorität in Afrika südlich der Sahara in den Kontext einer zunehmend globalisierten Religionspolitik.

Forschungsregion

Westafrika, insbesondere Sahel/Sahara 

Forschungsschwerpunkte

Islam in Afrika; Intra-religiöse Konfliktdynamiken, Religionsanthropologie, politische Anthropologie, Anthropologie des Krieges, Humanitarismus, Gender Studies, Musikethnologie, Ethnologie der Jugend, Methoden und Methodologie, Theorie und Praxis der Visuellen Anthropologie. 
Lehre

Lehrangebot im Wintersemester 2023/24

084873
Ausgewählte Begleitlektüre zur Vorlesung
19.10.23 - 01.02.24, Do 10-12, F 040
084881
The Anthropology of Music: methods and debates
11.10.23 - 31.01.24, Mi 12-14, STU 105 (2.10)

Lehrangebot im Sommersemester 2023

082880 Bachelor
082888 Master
Nature as a cultural category: Anthropological perspectives on Humans and non-Human relations
11.04.23 - 11.07.23, Di 12-14, F 030
082886
Writing a Project Proposal
12.04.23 - 12.07.23, Mi 12-14, STU 105 (2.10)
082887
Preparing for Fieldwork
12.04.23 - 12.07.23, Mi 14-15, STU 105 (2.10)

Lehrangebot im Wintersemester 2022/23

080879
The armed conflicts in Africa: Anthropological perspectives
11.10.22 - 31.01.23, Di 12-14, ULB 202
080884
Migration: Methods and Debates
12.10.22 - 01.02.23, Mi 12-14, STU 105 (2.10

Lehrangebot im Sommersemester 2022

088876
Bachelor
088881
Master
Postcolonial theories, In and Out Africa
05.04.22 - 12.07.22, Di 12-14, F 043

Lehrangebot im Wintersemester 2021/22

Lehrangebot im Sommersemester 2021

Lehrangebot im WIntesemmester 2020/21

Lehrangebot im Sommesemester 2020

Lehrangebot im Wintesemester 2019/20

Lehrangebot im Sommersemester 2019

Lehrangebot im Wintersemester 2018/19

Lehrangebot im Sommersemester 2018

Publikationen

Monographs and Book chapters

| | |
| --- | --- |
| 2024 | "Shame, Exile, and Muslim Masculinity among the Bellah Refugees from Mali in Niger", In: Shame, Modesty, and Honor in Islam, edited by Ayang Utriza Yakin, Adis Duderija, and An Van Raemdonck, 85-98. London-New York: Bloomsbury Academic. |
| 2022 | (with Dorothea Schulz): Islamic Renewal, Muslim Divorce, and Gender Relations in Mali. In: Stiles, Erin; Akin, Ayang Utriza (eds.): Islamic Divorce in the 21st Century. A Global Perspective. Rutgers University Press |
| 2019 | The Truth is that we are not Tuareg: Exile, Memory, and the Making of Bellah-Iklan Community in Niger ,dans B.S. Lecocq et A.Niang(dir); Identités sahéliennes en temps de crise,  Histoires, enjeux et perspectives, Berlin, Lit Verlag: 67-91 |
| 2018 | "The Truth about the Desert": Exile, Memory, and the Making of Communities among Malian Tuareg Refugees in Niger. Modern Academic Publishing (MAP): University of Cologne and LMU of Munich. |

Journal articles (peer reviewed)

| | |
| --- | --- |
| 2023 | *(with Dorothea Schulz, first editor): "Rifle, Pen, and Prayer Beads: Constructing Political Legitimacy in Mali",  Africa Today 70(1):1-110 |
| 2023 | *(with Dorothea Schulz, second author): "Fragments of Legitimacy: Symbolic Constructions of Political Leadership in Twenty-First-Century Mali." In: Rifle, Pen, and Prayer Beads:  Constructing Political Legitimacy in Mali, edited by Dorothea Schulz and Souleymane Diallo, Africa Today 70(1):13-37. |
| 2022 | "Exile, Masculine honor, and Gender Relations among the Tuareg from Mali in Niamey, Niger", Canadian Journal of African Studies, pp 1-20; doi.org/10.1080/00083968.2021.2017307. |
| 2021 | "Les militants musulmans et les entrepreneurs politiques au Nord Mali: les Bellah entre affirmation et contestation dans l'État malien post-colonial", Études internationales, Volume LII, N°3:299-322.  |
| 2016 | "We must all go to the Hangar": Performing Bellah group membership in the refugee camp in Abala, Niger. Performances of Belonging, Difference, and Exclusion in Muslim Africa, Journal for Islamic Studies, No. 35, 43-69. |
| 2016 | (together with Dorothea Schulz): Competing Assertions of Muslim masculinity in Contemporary Mali, Journal of Religion in Africa, No.46, 219-50. |

Films, Filmfestivals and Awards

| | |
| --- | --- |
| 2011 | Days of Ethnographic Film, Slovenia. |
| 2010 | V. Moscou International Festival and Scholarly Conference of Visual Anthropology (First Price of Debut Competition) |
| 2009 | International Festival of Jean Rouch, 28th Bilan of Ethnographic Film, Paris |
| 2009 | International Festival of Niamina Sory (Niamina, Bamako). |
| 2008 | Echagh (the Well), 32 min. |

Curriclum Vitae

Um an meinen aktuellen Lebenslauf zu kommen, klicken Sie bitte hier.