About the SCDH
The Service Center for Digital Humanities (SCDH) supports the community of DH researchers by providing professional project advice and guidance from proposal submission to publication. The SCDH is located at the University and State Library (ULB).
Fields of Work
The SCDH supports the Digital Humanities at the University of Münster by counseling and supporting projects, hosting workshops, developing and implementing methods and tools, as well as networking in and with the community.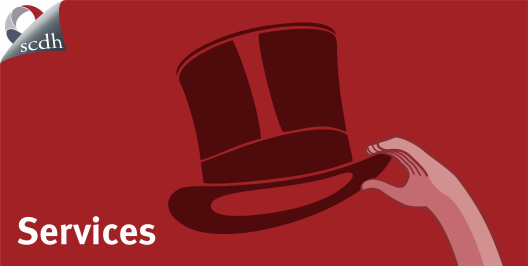 Services
Professional project consulting and support by the SCDH can take different forms and be specifically tailored to your project. Our service portfolio provides an overview of the services offered.
 
Methods and tools
Looking for the right tool for your project? In this section you will find help on tool selection, DH services developed by the SCDH, and tools commonly used in the DH community.

More about methods and tools ...
Our philosophy
Openness, confidentiality, quality, sustainability and continuity are the values that guide our daily work at the SCDH.
 
DH is teamwork
We are a dynamically growing team of developers, coordinators and staff at ULB Münster.
DH-Days of the University of Münster
Since 2019, the SCDH organizes the DH-Day of the University of Münster once a year for all digital humanities scholars to present and discuss projects and to promote informal exchange.