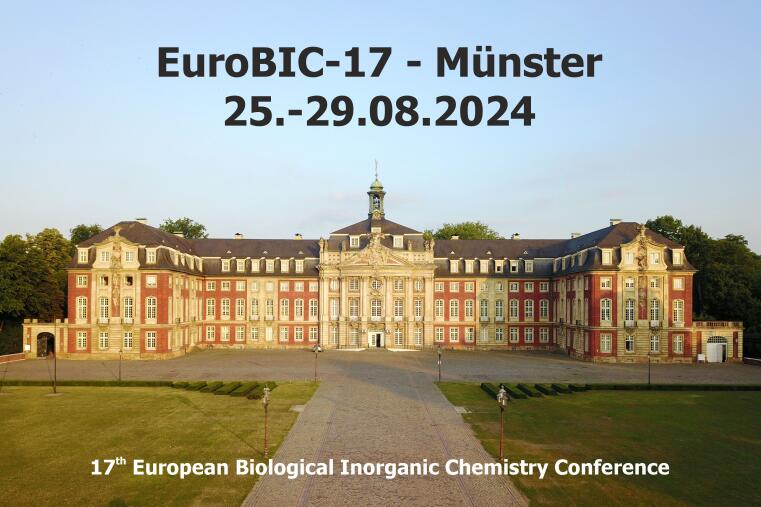 17th European Biological Inorganic Chemistry Conference (EuroBIC-17)
Welcome to the 17th European Biological Inorganic Chemistry Conference (EuroBIC-17), which is held at the University of Münster from August 25th to 29th 2024. The EuroBIC conference series provides a platform for the presentation and discussion of the latest developments at the interface of Inorganic Chemistry and Life Sciences. EuroBIC-17 will follow the highly successful previous meetings, the last four being held in Grenoble (2022), Reykjavik (2020, online conference), Birmingham (2018), and Budapest (2016). Twenty years after EuroBIC-7 had taken place in Garmisch‐Partenkirchen in 2004, we are pleased to host EuroBIC-17 in Germany again.
Jens Müller (Chair, Universität Münster)
Sonja Herres-Pawlis (Co-Chair, Rheinisch-Westfälische Technische Hochschule Aachen)
Nils Metzler-Nolte (Co-Chair, Ruhr-Universität Bochum)
 
In the tradition of former conferences of this series, EuroBIC-17 shall focus on current topics of biological inorganic chemistry and its applications, such as:
Bioinorganic chemistry of nucleic acids
Bioinorganic materials and nanotechnology
Bioinspired catalysis and coordination chemistry
Biomineralization
Bioorganometallic chemistry
Computational bioinorganic chemistry
Elemental imaging
Metal homeostasis, toxicity and metallomics
Metals in medicine
Metalloproteins and metalloenzymes
Photosynthesis
Founded more than 1200 years ago, the city of Münster looks back on plenty of history. In 1648, Münster became a city of peace when the Treaty of Westphalia was signed here. After the Napoleonic era, the city became the capital of the Province of Westphalia. Severely damaged in World War II, Münster was rapidly rebuilt in the 1950s. Today, the combination of old street network and modern buildings attracts a large number of tourists from all over the world. In 2004, Münster has been awarded the title of "World's Most Livable City" (LivCom Award 2004). With more than 300 000 inhabitants, Münster is an important economic and scientific centre in the northwestern part of Germany. It can easily be reached by car, train and plane (for more details, see travel information). The city hosts the University of Münster and the University of Applied Sciences, both together currently educating some 60 000 students in more than 180 disciplines.