How to request and pick up a digital ID (certificate) for signing PDF documents
With the IT portal you can obtain a digital ID (certificate) for signing PDF documents for internal university use only.
(In order to sign PDF documents in such a way that they are also accepted outside the university, a costly "qualified signature card" along with the corresponding hardware and software is required. If you have a specific business need, please contact the IT Service Competence Center.)
To issue a digital ID, the identity of the applicant must be sufficiently well controlled. This is already the case for most professors, civil servants, employees and regular students, and also for all persons who have previously received a personal certificate from the CA of the University of Münster. They can proceed directly according to the following instructions.
All other members of the university or the arts academy (lecturers, assistants, second students, etc.) must visit a CA participant service staff member once and identify themselves and only then can they proceed according to the following instructions. The affected users will be notified of this in the IT portal.
Please click on the images to enlarge.
Please replace my user name "perske", my email addresses, and my further datails with your own data.
Please log in to the IT portal: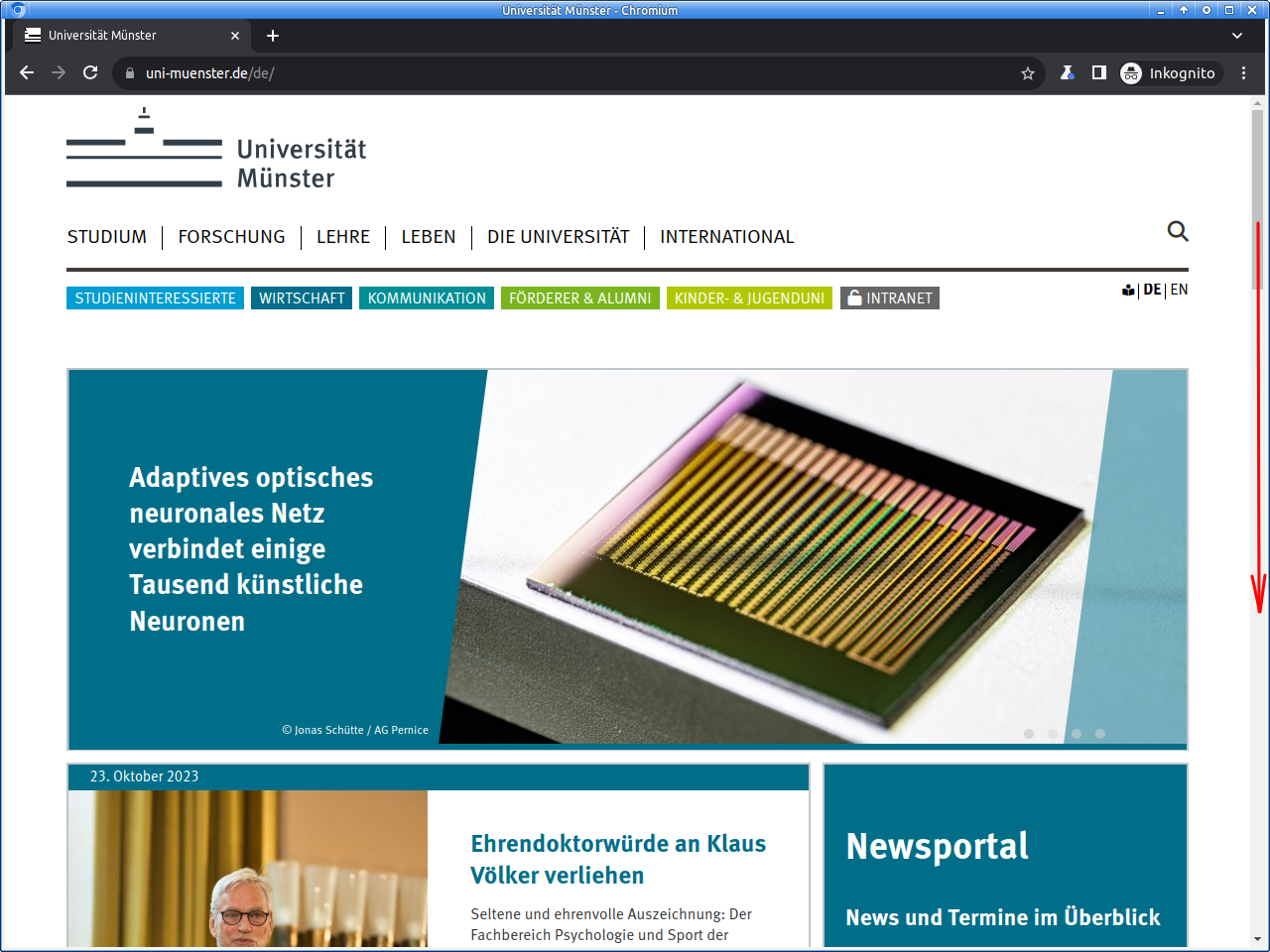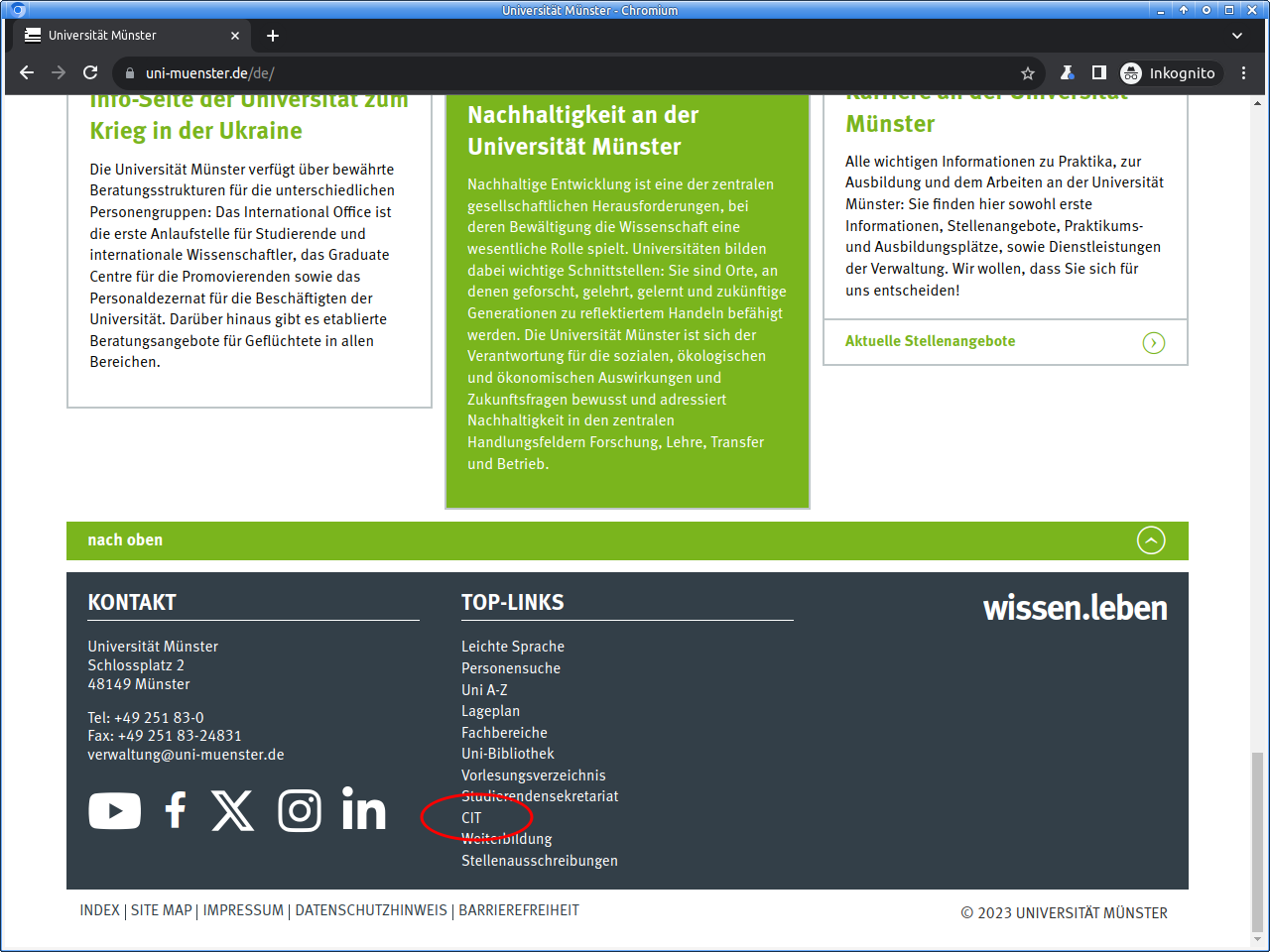 For logging in, usually username and password are used. But if you already own a digital ID (for e-mail and WWW), you can use that:
After logging in to the IT portal important notes may appear. A note regarding missing two-factor security would be important but two-factor security is enabled automatically when requesting a digital ID.
Please do not just follow the click instructions in the illustrations!

But read thoroughly all the pages displayed by the IT portal!

Important notes are displayed for you!
Select the area "Digitale ID (Zertifikat)" ("Digital ID (certificate)"):
There click on "Neue persönliche ID" ("New personal ID") or in the correct line on "Beantragen" ("Request"):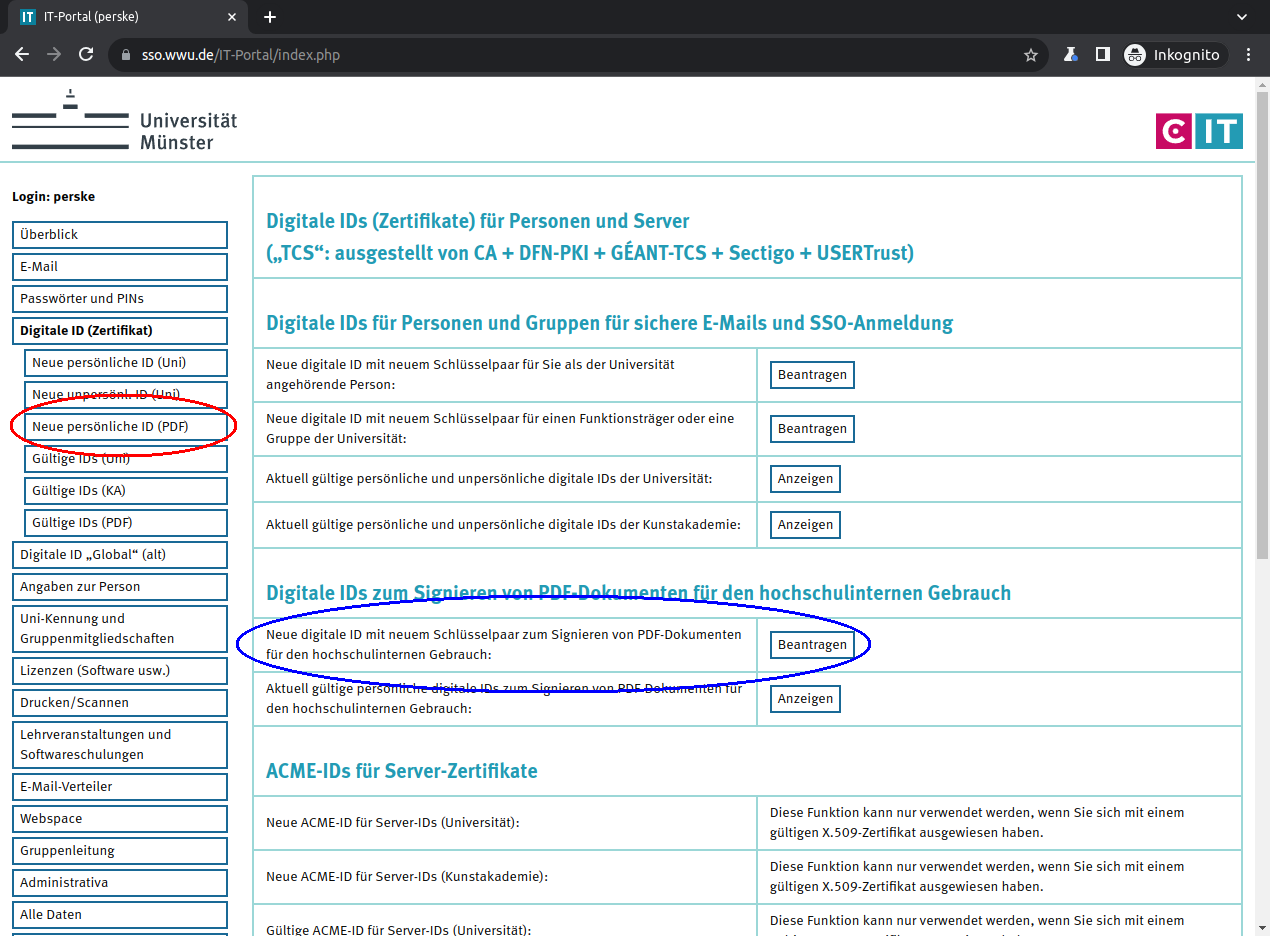 On the next page first regard the detailed notes. Then select what details are to be included into the certificate:
For members of the arts academy corresponding input fields are displayed.
Only if you have not yet activated two-factor security and only if you have not yet given a mobile phone number, you are asked for your mobile phone number. Different IT portal actions will send transaction numbers via SMS that you then have to type in (Mobile TAN).
(You will not need to type in a transaction number when you log in to the IT portal using your digital ID instead of your username and password. For this purpose, you should import your digital ID later not only in your email programs, but also in your WWW browsers.)
Only if you have not yet activated two-factor security a control number is sent via SMS to your mobile phone. You have to type in this number now.
On the next page you will download the digital ID as an PKCS#12 file. This file will be encrypted with a password for security. Please choose a good password and enter it twice.
Please make a note of this password and keep it very carefully!
With a click on the button you then request your new digital ID.
Usually after only a few seconds your digital ID is ready.
The download of the digital ID should start automatically, but can be also be started manually.
Please save your digital ID carefully!
Once you leave the page, there is no possibility to download the digital ID again!
Please also download the root certificate and then follow the next instructions as shown.