"Die meisten Menschen sind im Grundverhältnis zu sich selbst Erzähler."
Autobiographical narratives embody central questions of literature and literary studies as well as fundamental issues of human self-relations. As a distinct and differentiated literary genre, life writing encompasses not only autobiography and biography, but also autofiction, letters, journals, illness-narratives, testimonials, memoirs, travel narratives essays, interviews, autographics and various other kinds of text. Film, art and photography, and social networks are prominent autobiographical media as well.

The forum creates a space for intensive investigations and explorations of concrete texts and materials, as well as for systematic theoretical reflections on the genre itself. It engages in current academic discussions, takes up impulses from other disciplines, and participates actively in the development of new directions of (interdisciplinary) inquiry. The activities of the forum include lectures, workshops, and conferences, as well as co-taught seminars and cross-disciplinary publications.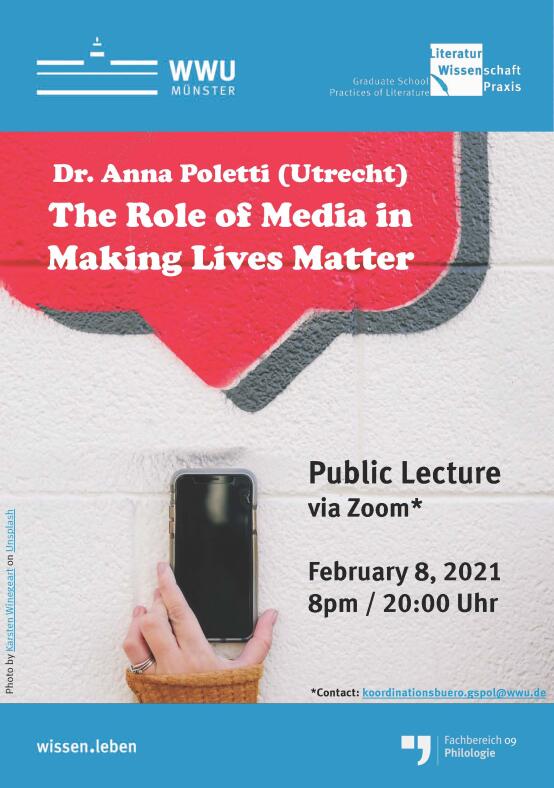 Dr. Anna Poletti (Utrecht): "The Role of Media in Making Lives Matter", Public Lecture, February 8, 2021, 8pm

We would like to draw your attention to the public lecture by Dr. Anna Poletti on February 8th, 2021 at 8 o'clock sharp, which she gives on invitation by the Graduate School Practice of Literatur, GSPoL. The focus of the lecture will be Dr. Polettis latest book, Stories of the Self: Life Writing After the Book, in which she suggests to think the theory of (the) autobiography further and somewhat different by taking into account the role and materiality of (digital) media in the process and act of Life Writings.
If you are interested, please register for this lecture. Subsequently, you will receive the zoom-link.
Please find the full announcement on the homepage of the GSPoL.