Dr. Jesper Reddig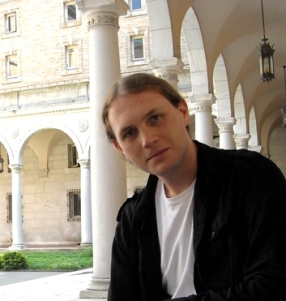 Jesper Reddig studied English, philosophy, and history at Münster University, Concordia University Montreal, and Vienna University. Graduating with a thesis in intermedial American studies ("Filming The Scarlet Letter: From Nathanial Hawthorne to Wim Wenders"), he moved on to do his doctorate at Münster's Graduate School Practices of Literature. His dissertation was titled "Performative Selves: The Americanization of Post-Soviet Jewish Women Writers," and it explored migratory cultures as well as ethno-racial and gender negotiations in literature published by a recent generation of Soviet-born Jewish novelists living in the U.S. While working on this project, Jesper was awarded a scholarship by the Heinrich Böll Foundation and spent time as a Visiting Research Student at the Frankel Center for Judaic Studies (University of Michigan), then defended his thesis in 2014 (summa cum laude).
Next to his position at Münster University, where he has been teaching in the British, American, and Postcolonial Studies (BAPS) Program since 2016, Jesper devotes his time to intercultural community work and human rights activism. During and after high school, he spent ten years volunteering in disability social work. More recently, he has entered a number of collaborations with local Arab and Persian communities. He has thus developed participatory middle-school structures in the Münsterland area, teaching German and foreign languages as well as practical philosophy in international and interfaith classrooms. In the same context, he co-directs an employment assistance project with young adults from Middle Eastern and African countries who study for vocational school. He also teaches German as a Second Language at AFAQ e.V. Münster, a migrant self-organization engaged in diversity projects with refugees. Jesper translates for Migration Control, a transnational network of anti-racist NGOs and research groups spanning countries from the EU as well as SWANA and Sub-Saharan regions, and he is an activist in a number of refugee rights initiatives, both Münster-based and nationally organized.
A lifelong student of the Socratic method, Jesper believes in dialogue as a prime mover of social change: a path to genuine knowledge formation, a bridge to traverse the ivory tower of theory toward the many realms of on-location praxis, and a potential key to cross-cultural exchange, ultimately geared to unlearn its own Eurocentric bias.