MUIMUN Conference 2021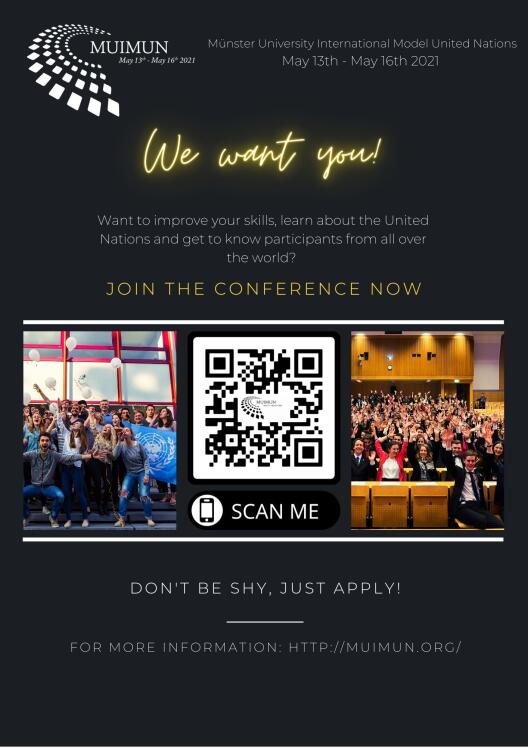 Meet new people & new opinions, get acquainted with global issues, enhance your skills in public speaking, leadership & languages, and feel the international spirit! Are you ready to challenge your view of the world?
MUIMUN is an event during which students play the role of international delegates and discuss different topics in a wide variety of UN-committees while representing their assigned country.
MUIMUN 2021 does not only offer its participants the chance to debate in several English-speaking committees, and get to know each other during the legendary evening socials, but also to take part in exciting workshops held by reputable speakers with topics all around the United Nations, NGO-work, humanitarian aid, and diplomacy. As a multicultural conference with a personal atmosphere, MUIMUN welcomes over 150 delegates from all over the world each year. It offers a unique spirit of social and international diversity tied together by the magical MUIMUN spirit.
The conference, being held online this year, will take place from 13 May to 16 May – and offer you a variety of four committees. So no matter if you are an experienced MUNer or a complete beginner, MUIMUN is an experience for everyone. The fee for our online conference is only 7 €.
If you live in Münster and want to experience the MUIMUN spirit in person, submit your application to our offline conference which will be held parallel to the online conference if the health regulations allow it. There are only a few spots available and the fee is 18 €.
For more information visit our website, or check out the most important information summed up directly on our registration page
If you have any questions, please feel free to contact us at delegates@muimun.org