1st Intelligent Matter Summer School (FIMSS)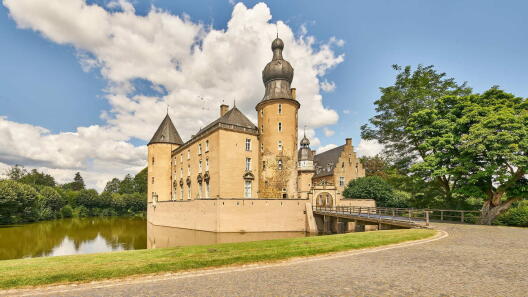 The Collaborative Research Centre (CRC) 1459 Research Training Group held its
1st Intelligent Matter Summer School
from Monday, 19th of September, 2022 until Wednesday, 21st of September, 2022
at the  Gemen Castle in Borken.
All member of the CRC1459 Research Training Group were invited and experienced three days packed with exciting lectures in Biology, Chemistry and Physics in addition to having the opportunity to choose two out of four offered soft skill workshops to become a well-rounded researcher. Furthermore, an evening's entertainment program helped to bond and wind down with fellow attendees after an intense day of lectures and workshops.
Research proposal competition
We are pleased to announce the finalists of our research proposal competition in 2022.
The project proposed by Saskia Frank (Project B04) and Inka Schröter (Project B05) will be funded by the CRC1459 from January 2023 for one year.
Congratulations to the winners!
Impressions of the First Intelligent Matter Summer School (FIMSS)