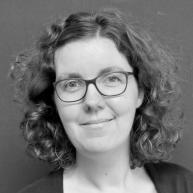 Participation in the Cluster of Excellence
Research Areas

Higher education research
New institutionalism, organisational theories, network analysis
Europeanization and internationalization of higher Education

Doctoral Thesis

Wahrnehmung und Wirkung der europäischen Hochschulpolitik. Akteure, Motivationen und Strategien an drei Universitäten in Deutschland, den Niederlanden und der Schweiz

Supervisors

CV

Education

-

Doctoral studies in Political Science

-

Studies of Political Science

-

ERASMUS student at the Institut d'Etudes Politiques Bordeaux

Positions

-

External functions

since

Member of the smartNETWORK

Publications

Articles

Articles in Journals

Articles in Edited Books

.

. "Die Kleinparteien."

In

Das Regierungssystem der Bundesrepublik Deutschland,

herausgegeben von

. Elektronisches Lehr- und Lernangebot der Bundeszentrale für Politische Bildung, Bonn.

Theses (Dissertation or Habilitation)

.

. Europäisierung der Universität. Individuelle Akteure und institutioneller Wandel in der Hochschule Doctoral Thesis, Universität Münster. Wiesbaden: Springer VS.