(A2-9) Normative Crisis and Religious Affiliation in Italy in the 1960s and 1970s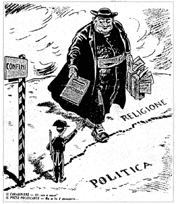 In the 1950s, a debate arose about the contradiction (the so-called "anomaly") between the constitutional principle of the freedom of faith and conscience (Section 8) and the continuous privileging of the Catholic Church by way of inclusion of the 1929 Lateran Pacts into the Italian republican constitution (Section 7). Based on the analysis of this dispute, project A13 "Political Modernity and the Catholic Church in Italy's 'First Republic': The Political and Cultural Controversy about the Amendment of the Concordat" focuses on the historical investigation of the reform debate about the amendment of the concordat between the Italian state and the Vatican from 1948 to 1984.
The project's starting point is the awareness that most of the (historical) studies in the scholarly reception of and accounting for the forty-year reform process focused primarily on the institutional dimension of challenging the concordat and respectively on the parliamentary and diplomatic history of the amendment. Project A2-9 will therefore take a closer look at the meso level of society. In addition to the institutional political actors, autonomous (including Catholic) groups that take a critical attitude towards the parties and the church hierarchies will also be analysed as the protagonists of the debate were not only the activists of the Partito Radicale, the communists, the socialists and anti-clericals, but also large sections of the catholic democratic public (ACLI, CISL, FUCI and the "groups of dissent"). Their different and alternative interpretations of the system of enforcing the Catholic Church's normative requirements, which existed until 1984, as well as their critical attitude towards the state's independence from the Vatican will be analysed in the project.
---
The Project is part of interconnecting platform E Differentiation and De-Differentiation and coordinated project group Social forms of religion in 'second modernity'.