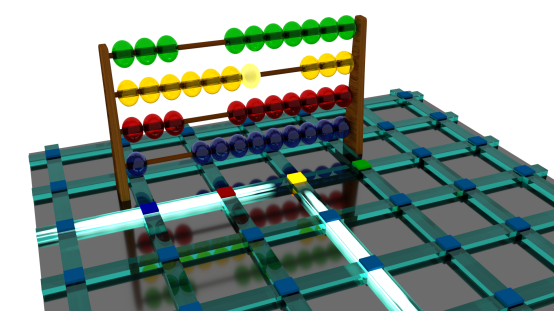 Phase-change photonics:
Phase-change materials (PCMs) offer a huge contrast in their refractive index when switched between an amorphous and crystalline state, for example exhibited as the data storage medium in DVDs. Combined with integrated photonics these materials widley open the door for many applications in all-optical signal processing and computing. First prototypes of all-optical multilevel data storage, an abacus for arithmetic operations and non-volatile switches have been developed and realized in our group.
A highly vivid and interesing topic of current research are unconventional computing architectures as neural networks, for example used for pattern and speech recognition. In our group, we investigate all-optical neural networks based on the phase-change photonic platform.
Integrated multilevel memory (Nature Photonics, 2015)
All optical 1x2 switch (Advanced Optical Materials, 2016)
Calculating with light (Nature Communications, 2017)