Research Areas
Behavioural development, especially during prenatal phase and adolescence with particular emphasis on gene x environment interactions; stress, stress avoidance and animal welfare; the hormonal and molecular basics of cognition, emotion and social behaviour

In mammals members of the same species may vary conspicuously in their individual behavioural profiles. Environmental factors play a major role in the development of such individual differences: they can modulate brain and behavioural development during different phases of life like the prenatal phase and adolescence.
We investigate in wild and domestic guinea pigs the influence of the social environment in which the pregnant female lives on brain development, endocrine reactions and offspring behaviour later in life. Furthermore the neuroendocrine mechanisms underlying different profiles are investigated and whether characteristics of offspring of socially stressed mothers (infantilised sons, masculinised daughters) are pathological or represent efficient adaptations to the current environmental conditions. Finally, we are interested in the canalization of behavioural strategies and stress responsiveness by social experiences during adolescence, the neuroendocrine mechanisms bringing about such different behavioural profiles and whether they can be adaptations to different social situations like high versus low population densities.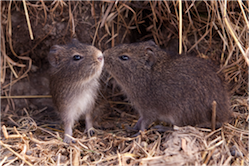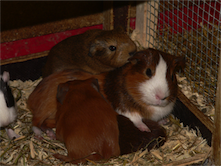 Selected Publications
Kaiser, S. and Sachser, N. (2005): The effects of prenatal social stress on behaviour: mechanisms and function. Neuroscience & Biobehavioral Reviews 29, 283-294.

Kaiser, S., Haderthauer, S., Sachser, N. and Hennessy, M.B. (2007): Social housing conditions around puberty determine later changes in plasma cortisol levels and behavior. Physiology and Behavior 90, 405-411.

Kaiser, S. and Sachser, N. (2009): Effects of prenatal social stress on offspring development: pathology or adaptation? Current Directions in Psychological Science 18(2): 118-121.

Hennessy, M.B., Kaiser, S. and Sachser, N. (2009): Social buffering of the stress response: Diversity, mechanisms, and functions. Frontiers in Neuroendocrinology 30, 470-482.

Sachser, N., Hennessy, M.B., Kaiser, S. (2013): Adaptive modulation of behavioural profiles by social stress during early phases of life and adolescence. Neuroscience & Biobehavioral Reviews 35(7), 1518-1533.
---
Academic CV - Honours and Special Recognitions
1992
Diploma thesis in Biology at the University of Bayreuth
(Effects of prenatal stress during pregnancy on behaviour and physiology of guinea pigs; Supervisors Prof. Dr. N. Sachser and Prof. Dr. D. von Holst)
1993-1997
Research scientist at the Department of Behavioural Biology, University of Münster
1997
PhD thesis (supervisor Prof. Dr. N. Sachser).
1998-2003
Assistant professor ("Wissenschaftliche Assistentin") at the Department of Behavioural Biology, University of Münster.
Research grant from the DFG for the studies on neurobiological effects of prenatal stress
Researcher in the group of Prof. Dr. D. Swaab at the Netherlands Institute for Brain Research in Amsterdam.
2004
Habilitation and venia legendi in zoology.
2004-2010
Associate professor ("Privatdozentin")
2010
Professor apl..at the Department of Behavioural Biology, University of Münster