Ramona at UCLA - Los Angeles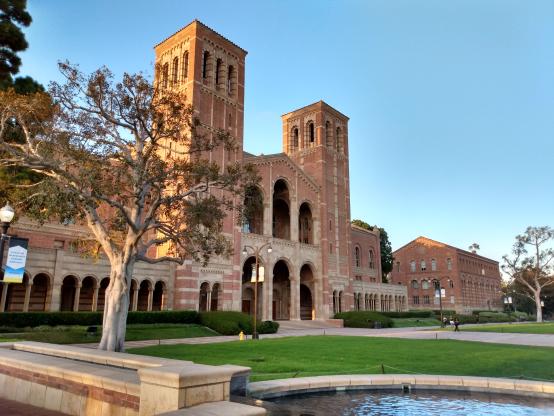 This summer I visited the University of California, Los Angeles (UCLA) for a three month secondment and had a great time in the second largest city of the United States. During my stay I learned a lot about travelling wave fronts – both from a scientific and from a personal point of view,… but before I jump into the details, I'd like to give some general information.
The university is located in Westwood, close to Hollywood and roughly between Beverly Hills and Santa Monica. There is a lot of UCLA Housing all around the campus. As my secondment took place during the summer term I was lucky to get a sublease in 20-minutes walking distance to the Maths department. To be honest, I was a bit surprised (or shocked) by the high rents in Westwood. If you want to save money, you could also stay in a shared bedroom or look for accommodation outside of Westwood. If you are staying farther away you need to consider that the traffic and also the public transport can be a bit of a mess during rush hours. Therefore, I would totally recommend looking for a place in Westwood – and with the NoMADS funding it is also affordable for the secondée. In addition, in Westwood there are some good bus lines, which bring you to Santa Monica, Hollywood, Venice, Downtown and other nice places around L.A..
In L.A. there are lots of great spots which are definitely worth visiting and I did a lot of trips around the city on the weekends. One trip brought me to Downtown and directly up to the 70th floor of the Wilshire Grand Center. The view over the city is amazing! During lots of hiking trips in L.A.'s canyons I got incredible views, too. On some trails, you can enjoy the view of the pacific coast and overlook the city and its skyline at the same time.
Well, this sounds like a holiday report but actually, I worked intensively on a cell colony project I started with AstraZeneca (AZ) in my previous secondment. Additionally, during the first eight weeks I was involved in this year's Research Experiences for Undergraduates (REU) programme for Computational and Applied Mathematics as well. While I assisted Prof. Marcus Roper mentoring a project group in the fungal lab, I discovered how much I like working with Undergrads. It was a great experience! The students were highly motivated to work on the projects on fungal cells, e.g. observing the development of growing network structures or investigating the organizing mechanisms of cellular growth. Those projects always involved experiments, microscopy and, consequently, image processing of the microscopic image data. In this context, I supported them to process their microscopy data automatically with MATLAB programmes and segment relevant parts in their grayscale images.

The atmosphere in the lab was always cheerful and it was great to observe students from different backgrounds interacting in such a friendly way with each other. I loved that they already started translating the new lab motto to Korean: sugohasyeoss-eoyo ('Good work, team!').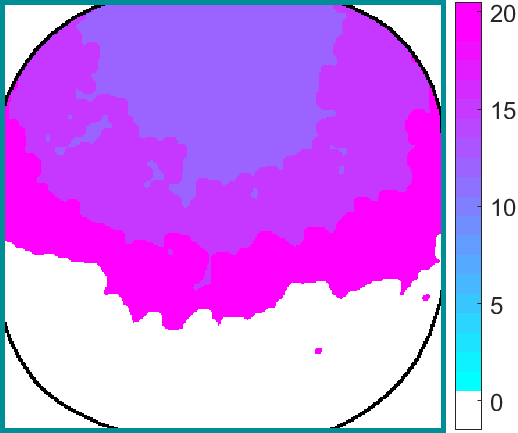 Moreover, I myself experienced very good supervision, too. I am grateful for lots of new input for my AZ colony project from Prof. Marcus Roper. He helped me to see the colony development from new perspectives and I started with him to work on a new mathematical model inspired from population models like the Fisher-Kolmogorov model or the SIR model. Our new model couples two concentrations for 'healthy' cells and for 'sick/dying' cells. We investigated the model from an analytical point of view and related it to our microscopy data set from AZ. In this context, I did not only measure the spreading speeds and segmented different density areas within the growing colonies I also came up with new visualizations for the spreading wave fronts. With those new representations, AZ researchers can easier compare several wells at the same time and identify quickly significant wells and treatments.
Staying so close to the surfers' paradise in Malibu, I did not only study the travelling wave fronts of the spreading cell colonies but also got some hands-on experiences with the travelling waves at the beaches in Santa Monica and Venice.
Thanks to the NoMADS project I had a great Californian Summer and a very productive research stay at UCLA!