Ramona at AZ - Cambridge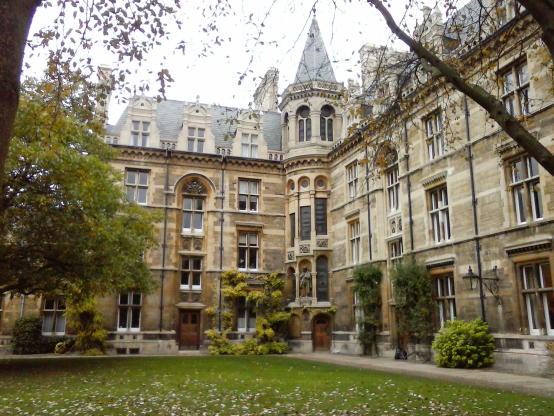 After I started my PhD at the University of Münster in Martin Burger's Imaging Workgroup in December 2017, I went for a three months NoMADS secondment to Cambridge last year. During my stay in Cambridge, I visited the local industrial partner AstraZeneca there and worked in Carola Schönlieb's Cambridge Image Analysis (CIA) group at the Department of Applied Mathematics and Theoretical Physics (damtp).
AstraZeneca (AZ) is one of the major global players in the pharmaceutical industry and drug discovery. While I was staying in Cambridge, I met biologists and computer scientists from AZ and they introduced their research to me. The AZ researchers did not only explain me the specific data set we are working on. Even more, they also showed me the data acquisition process. I also visited the molecular biology lab of AstraZeneca in the Cambridge Science Park during lab induction tours. In particular, the machine used to generate "my" data set, which consists of several time series of phase contrast images capturing cell colony development, was explained. In my opinion, it does help to see the imaging process directly and observe the biologists start working on the data set. It raises an awareness of issues and challenges related to this particular data set and the process of cell colony formation. Before, I could not really imagine how time-consuming and exhausting the manual evaluation process for the biologists actually is. However, the observation that there is still a lot of manual investigation involved highlights even more the importance of not only general tools, but also some task specific software solutions to improve the daily work of researchers in drug discovery. With the help of specially developed software, we can promote the further understanding of complex molecular cell biology.
Currently, we are still working on methods to facilitate and solve some steps automatically in the process of evaluating images displaying the formation of cell colonies. We are using registration and segmentation approaches to capture this time dependent development process. In the future, we want to use texture information to discriminate between different density regions within a cell culture. Those different density regions correlate to a certain extent to the temporal state of the colony development process. In the initial state, there is only one cell in each well and the biologists apply different treatments (chemical compounds) to the content of the well. This manipulation might slow down or accelerate the cell division cycle and modify cell morphology and intercellular behaviours. Consequently, it influences the colony formation process and the cells' clustering preferences.
Luckily, I am not facing the problems all on my own. I am happy to collaborate with Yinhai Wang and Ben Taylor from the industrial partner AstraZeneca on the practical and applied side. Thanks to them, I have a better understanding now of the biological background and a more precise idea of what it means to work in a big pharmaceutical company. They raised my awareness for this special topic and the sensitivity of the data. Discussions with Carola and members of her working group in Cambridge were always precious and helpful. Especially, Aurélie Bugeau and Nicolas Papadakis supervised me during my stay in Cambridge. They were visiting Carola's group at the same time and are members in the NoMADS project, too. They were always giving valuable advice and helping me with mathematical issues. Finally, Benedikt Wirth as my new supervisor in Münster already supported me during my stay in Cambridge and is now discussing things with me personally. He always offers valuable advice and comes up with new ideas to address the problems we are facing.
Certainly, I can really learn a lot in this collaboration and I am looking forward to keeping on working with all the researchers from academia and industry I got in contact with through NoMADS. I appreciate that I can continue on the project although I already returned to Germany.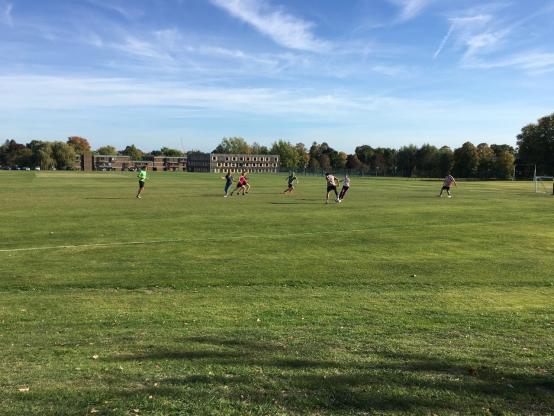 Eventually, I want to say a few personal words about my time in Cambridge. I enjoyed my stay a lot and it felt as time was flying by almost right from the beginning. Of course, I did not only stick to the offices, but spent some time discovering the old colleges. I also joined a girls running group (Let's run girls) and went to dancing classes. The Kinetic Group (KGB) challenged Carola's CIA for a football match during my stay and the match was definetely a lot of fun. Finding a place to stay was not difficult since the university provides a special Accomodation Service. Through this service I easily got into touch with a very nice couple who let a room in their house for short term visitors of the university.
So finally, I would definitely recommend a secondment to AstraZeneca in Cambridge – because not only it is a good opportunity to spend some time in a beautiful city with a multi-cultural society, but also because it is a great chance to gain new experiences in working at the interface between university and industrial research. So if you consider a secondment to AZ, do not hesitate and get into touch with Yinhai Wang (Yinhai.Wang@astrazeneca.com) early. He is a great help when sorting out security checks to get you right into the AstraZeneca offices.
Photos