90 Years Department of Communication Münster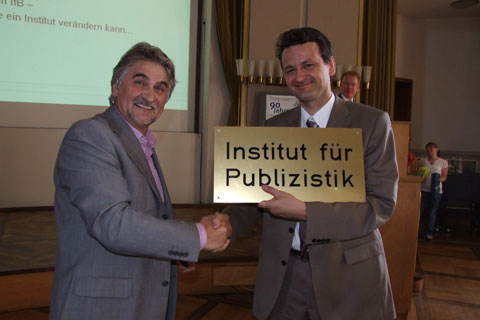 The Munsteranian Department of Communication (IfK) celebrated its 90th birthday on July 2nd, 2009. Part of the program to celebrate this day included reports and updates to current research programs and a poster presentation, in which different research groups presented their work.
If PR-consultation in politics, TV-News and its' reception, effects of personal conversations or the decline of printed news: the professors of the IfK discussed the relevance of research in communication studies and its importance in assessing current social developments.
Looking back, alumni of the the department discuss the history of the department: Emeritus Prof. Joachim Westerbarkey assessed the approaches in film studies at the department in Münster. Rof. Siegfried Weischenberg, who was active in Münster until 2000 and now researches at the University of Hamburg, pointedly took position in current as well as past theoretical debates of the IfK.
The festive activities took place in the garden café's of the castle and were accompanied by sunshine and the sound of guitars. In the late hours of the party, the guests found their ways to the dance floor as Prof. Gehrau played songs from his record collection.