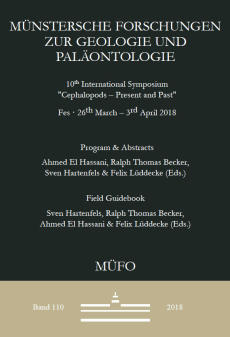 Band 110 - 10th International Symposium "Cephalopods – Present and Past", Fes 26th March – 3rd April 2018. El Hassani, A., Becker, R. T., Hartenfels, S. & Lüddecke, F. [eds]: Abstracts. Hartenfels, S., Becker, R. T., El Hassani, A. & Lüddecke, F. [eds]: Field Guidebook.
The international community of cephalopod workers has been invited to attend the 10th International Cephalopod Symposium in Fes, Morocco. As it has become tradition since the 1st Symposium in Tübingen in 1985, the symposium was designed to deal with all aspects of both living and fossil forms, with nautiloids and their past relatives, ammonoids, and coleoids. The meeting will be interdisciplinary in its best sense, combining cephalopod biology and palaeontology, and providing a forum for advanced and young researchers, from B.Sc. to Ph.D. students to the experienced professors and museum curators. The more than sixty talks and poster presentations shall stimulate fruitful discussions and new research ideas and directions. Therefore, we are glad to organize a meeting that covers the highly diverse traditional research as well as case of studies based on new investigative techniques and theoretical approaches. The topics presented in the scientific program range from taxonomy, systematics, biostratigraphy, phylogeny, and palaeobiogeography to shell mineralogy, isotope studies, functional morphology, recent ecology, and aspects of wildlife conservation. Apart from our host country, registred participants are from Algeria, Germany, Switzerland, the U.K., Czechia, Slowakia, Italy, Poland, Russia, the USA, Brazil, and Argentine. We are a little bit concerned that cephalopod colleagues from Japan, China, other Asian countries, and Australia did not find their way to Morocco. This may reflect costs for the long travel but it is important that the globally decreasing number of specialists working on cephalopods keeps to be unified and active. Therefore, it is our goal to use the social parts of our meeting to create new research alliances and friendships.
Apart from the scientific conference you will be able to see during the post-symposium excursion the impressive landscapes and numerous cephalopod-bearing rock formations of the Middle, High, and Anti Atlas. The historical fascination and oriental beauty of Fes, our joint taste of the local food, and the wonderful Moroccan nature shall give us a splendid joint experience in order to increase the bonds in our community of cephalopod workers.
The eastern Anti-Atlas, the region between Zagora in the SW and Erfoud in the E, is characterized by extensive Palaeozoic outcrops. Most famous among fossil collectors are the Cambrian trilobite beds, the Ordovician "Fezzouata Lagerstätte", and the incredibly fossiliferous Devonian to Lower Carboniferous strata. Ammonoids, trilobites, brachiopods, and corals are locally so abundant that specific fossil beds have been mined over many kilometers, leaving marker trenches in the desert that can be easily spotted on aerial photos. Cephalopods are so abundant at many levels, even after decades of heavy commercial exploitation, that it is justified to call the region a "cephalopod paradise". Fossils from the region can be found in many rockshops all over the world. However, locality and stratigraphy data of such specimens are often very crude or wrong. For example, the locality information "Alnif" and "Erfoud" is rather meaningles; both stand for any locality of the Maïder or Tafilalt regions, respectively. The purchase of material has also to consider the very high preparation skills of local people. This results in many specimens that were glued together from several original fragments, sometimes, unfortunately, combining pieces of different taxa. Whilst this is more problematical for trilobites, ammonoids are commonly "improved" by modelling septal surfaces at the end of body chambers or by too strong grinding before polishing. There are many different polished products made of Silurian black orthoceratid limestone. Polished coffee and dinner tables are often cut from reddish, orthocone and goniatite-rich "IIß Limestone" (middle Famennian). The widely quarried dark "Kellwasser Limestones" (s.l., top Frasnian), which is often a cephalopod coquina, is also polished and turned into many different items (boxes, dinner plates, bowls, washing basins…). Two main Devonian and Lower Carboniferous outcrop regions are distinguished in the eastern Anti-Atlas, the Tafilalt, the Erfoud-Rissani-Taouz region, and the Maïder, ca. between Msissi and Alnif ,and from there to the S. Subordinate outcrops follow westwards, towards Tazzarine and Zagora (e.g., the Jebel ou Driss). In the E, folded mid-Palaeozoic strata disappear under the horizontal cover of Cretaceous sediments, the so-called Kem Kem and Hamada du Guir. It is famous for its fossil vertebrate remains, including large dinosaurs (Spinosaurus), mosasaurids, and saw fish teeth (Onchopristis). These are collected in the Moroccan-Algerian border region by kids from local villages and also offered in rock shops. North of the Devonian-Carboniferous belt, followed by outcrops of Cambrian to Ordovician clastics, high mountains are formed by Precambrian rocks, the Jebel Sahro in the NW and the Jebel Ougnate in the N. North of these, in the Tinerhir region, the Devonian/Carboniferous was subject to the main Variscan deformation. However, there is a northern extension of the Tafilalt in the Tinejdad region, E of the Oued Rheris.
Price: 27,50 €