Venue
---

The conference venue is located in the Cluster of Excellence, Johannisstr. 1; 48143 Münster, Germany, right across from the university's English Department and only a few steps from the LWL Museum Art & Culture (LWL Museum Kunst & Kultur). The venue is only 15 minutes from the main train station "Munster(Westf)Hbf", from where you can catch a bus, take a taxi, or walk to the venue.

For directions by bus from the train station, please go to our TRAVEL section.
Our customised IAB 2019 Google map gives you a sense of direction and provides you with a list of restaurants and cafés close to the conference venue.
---

Münster
Münster is a historical university town in the north-west of Germany, not far from the Dutch border. With over 1,200 years of history, Münster has grown into a modern city with approx. 300,000 inhabitants. It is home to one of the largest universities in Germany and the large student population (approx. 50,000 students at different academic institutions) creates a youthful and dynamic atmosphere. Being at the European forefront of environmentally friendly and sustainable urban development, Münster is also a very "green" city. Numerous international scholars, including renowned Kenyan writer Ngugi wa Thiong'o, have experienced the thousands of bicycles populating the city's streets at first hand. Münster's well-planned infrastructure allows for short distances and easy connections. Particularly suited for and experienced in hosting international conferences of all sizes, Münster - and its university - enjoy an excellent reputation as an academic, cultural, and artistic hotspot.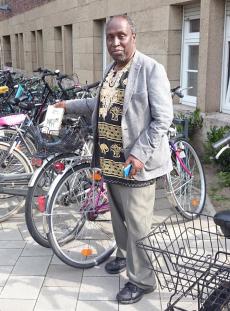 Historically speaking, Münster is well known for the "Peace of Westphalia", which ended the Thirty Years' War and was signed in the city's historical town hall. Münster's medieval core, the "Prinzipalmarkt", its green spaces and outdoor areas, wide-ranging cultural activities as well as a great variety of local pubs and premises help people to soon feel at home here. In Münster, antique architecture meets innovative and experimental city development creating unique urban sights. Numerous student-run cafés and initiatives mark Münster's trendy yet very pleasant drive.
The city offers a unique mix of culture. In Münster, old and new, international and domestic art communicate self-confidently in mutual dialogue. Two eminent examples of this are the Münster Museum of Pablo Picasso Art and the LWL Museum for Art and Culture. In addition, you will encounter sculptures and urban art throughout the city. Artists of world renown have been gathering for a large-scale exhibition with a unique concept staged at regular ten-year intervals from 1977 to the present day; their site-specific works range from classical sculpture to performative art. Today, the "Skulptur Projekte" ranks among the most important contemporary urban space exhibitions in Europe. Münster was, for the fifth time, the venue for this event in summer 2017. The city's theatre scape is extremely diversified. Alongside the classical repertory comprising stage, music, dance, children's and adolescents' theatre, the free scene provides theatre lovers with programmes ranging from boulevard to vaudeville shows and experimental productions. Besides the municipal symphonic orchestra, there are numerous ensembles under the umbrella of the university and the conservatoire, as well as private ensembles and an outstanding series of master concerts. Numerous festivals continuously attract international attention.
Experience Münster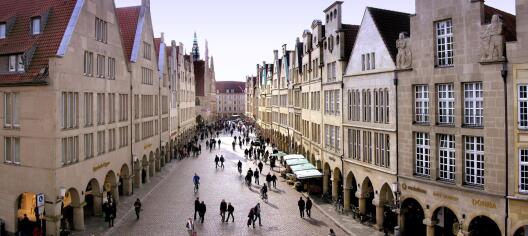 For further information about Münster, you can go to: