First Münster Symposium on Intelligent Matter (MüSIM)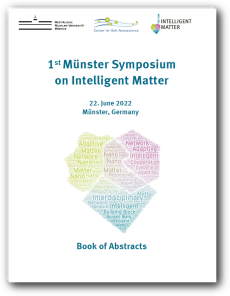 On Wednesday, 22nd of June, 2022 the Collaborative Research Centre 1459 "Intelligent Matter" hosted its first MüSIM!
It was a great success bringing together national and international scientists for a day filled with inspiring talks, poster sessions, networking and much more.
First MüSIM Awards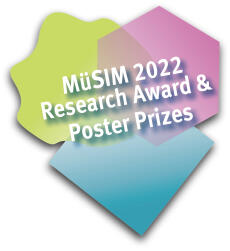 We received several outstanding applications with impressive resumes for the MüSIM 2022 Young Researcher Award.
This year´s finalist was chosen to be Mehak Jain for her contribution:
Fuel-Driven and Enzyme-Regulated Redox-Responsive Supramolecular Hydrogels
in Angew. Chem. Int. Ed. 2021, 60, 2 1062–21068.
She also gave a short talk on her contribution during the symposium.
The winners for the MüSIM2022 poster prizes were:
Self-assembly of hybrid nanostructures for brain-inspired electronics
by Marc Beuel1,2, Jonas Mensing2, Lisa Schlichter2, Hidde Veldkamp1, Andreas Heuer2, Bart Jan Ravoo2, Wilfred van der Wiel1 of 1University of Twente & 2University of Münster
History-dependent signal processing in a flow reactor
by Dmitrii V. Kriukov and Wong Asy of University of Twente and
Photoinduced synthesis of luminescent dibenzothiophenes in polymer matrices
by Marco Schmiedtchen & Jens Voskuhl of University of Duisburg-Essen
Congratulations to all winners of the MüSIM2022 Young Researcher Award and MüSIM2022 Poster Prizes!