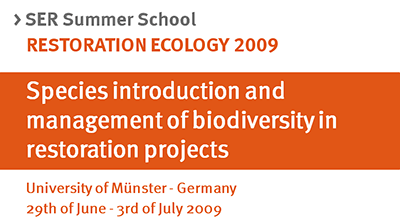 News
---
We enjoyed spending an inspiring week with this very nice group of young and engaged scientists! Thanks again also to all lecturers and field guides.
Lectures and students' presentations
, the
evaluation
and
photos
are online now.
[22.07.2009]
Welcome to SER Summer School 2009!

---
We invite PhD students who work in restoration ecology and related fields to come to Münster for the SER Summer School 2009. Together with many specialists from all over Europe, we will work on different aspects – biotic and abiotic – of "Species introduction and management of biodiversity in restoration projects".
The course includes lectures of specialists to provide theoretical background and also field work and excursions to train practical research skills and learn about restoration projects on-site.
We are looking forward to welcome you in Münster in summer 2009!
Download the SER Summer School Restoration Ecology 2009 FLYER and find more information on these pages!