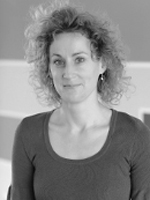 Participation in the Cluster of Excellence
Research Areas

International Politics / Comparative Government
Peace and Conflict Studies
Religion and Politics
Violence and Conflicts in Multi-Ethnic and Multi-Religious States
Democracy and Democratization
Demography of Developing Countries
Regional Focus: South and South-East Asia, USA, Great Britain, Ireland

CV

Education

Doctorate ('summa cum laude') in Political Science (International Politics), Dissertation on Processes of Democratization, Conflicts and Violence in South Asia
Postdoc Scholar at the Graduate School 'Cultural Contact and Scientific Discourse', University of Rostock

-

Studies of Political Science, Sociology, Economics and German Philology at the Georg-August University of Göttingen und at the University of Rostock

Positions

since

Research Assistent at the Cluster of Excellence for 'Religion and Politics in the Cultures of Pre-Modernity and Modernity' at the WWU Münster, Project A4: 'Religion and Biopolitics'

-

Contract Teacher at the Chair of Empirical Social Research and Demography, Department of Sociology and Demography / Visiting Scholar at the Max Planck Institute of Demographic Research, Rostock

-

Research Assistent at the Chair of International Politics and Development Assistance, Department of Political Science and Public Administration, University of Rostock

-

Research Assistent at the Peace Research Institute Frankfurt (Hessische Stiftung Friedens- und Konfliktforschung, HSFK), FB 3 'Democratization and Inner-Social Peace'

External functions

Junior Group 'Asian Research' and Study Group 'South Asia' of the DGA

German Association for Asian Studies (Deutsche Gesellschaft für Asienkunde, DGA)

German Political Science Association (Deutsche Vereinigung für Politische Wissenschaft, DVPW)

Publications

Books

Books (Monographs)

.

. Die Dekonstruktion der Demokratie durch die Kultur. Baden-Baden: Nomos.

.

. Ursachen und Erklärungen gewaltförmiger Konflikte in Demokratie der Dritten Welt. Rostock: Universität Rostock.

.

. Zwischen Bürgerkrieg und friedlicher Koexistenz. Interethnische Konfliktbearbeitung. Bielefeld: Transcript Verlag.

Edited Books

(Hrsg.): . Wirtschaftspolitische Herausforderungen des demographischen Wandels. Wiesbaden: VS.

Articles

Articles in Journals

.

. 'Ending ethnic Civil Wars by Negotiations or by Military Defeat?' Journal of Asian and African Studies January: doi: 10.1177/0021909613514528.

.

. 'The Radicalisation of Buddhism in the Twentieth and Twenty-first Centuries.' Politics, Religion & Ideology 15, No. 2: 283-307.

.

. "Genozidale Staaten. Genozidale Kulturen? Die Ordnungen der Gewalt." Zeitschrift für Genozidforschung 12, No. 1: 65-96.

.

. "Zur Rolle des Sicherheitsdilemmas in ethnischen Konflikten." Internationales Asienforum. International Quarterly for Asian Studies 38, No. 1-2: 25-50.

.

. "Religion und Politik in komplexen Funktionssystemen." Friedens-Warte. Journal of International Peace and Organization 82, No. 2-3: 109-135.

.

. "Zur Konstruktion und Perzeption von Sicherheit in Bürgerkriegen." HSFK-Report 5: 1-33.

.

. "Konflikte in ethnisch fragmentierten Demokratien der Dritten Welt." Focus Asien 20 Juli: 12-19.

.

. "Framing Violence. Nation- and State-Building. Asian Perspectives." PRIF-Report 72: 1-48.

.

. "Frieden in Sri Lanka. The same procedure as every year?" Asien. The German Journal on Contemporary Asia 94 Januar: 42-59.

.

. "Nach dem Krieg ist vor dem Krieg: Der Bürgerkrieg in Sri Lanka als Ergebnis machtpolitischer Strukturen und kultureller Perzeption." Nord-Süd aktuell 2, No. September: 313-326.

.

. "Friedensprozess ohne Ende - Am Ende ohne Frieden. Zur Verhandlung des Bürgerkrieges auf Sri Lanka." HSFK-Report 8: 1-62.

Articles in Edited Books

.

. "Zwischen Bürgerkrieg und friedlicher Koexistenz: Innerethnische Konfliktbearbeitung in defekten Demokratien."

In

Der demokratische Unfrieden. Über das spannungsreiche Verhältnis zwischen Demokratie und innerer Gewalt,

herausgegeben von

, 61-112. Baden-Baden: Nomos.

.

. "Zum Konflikt- und Gewaltpotenzial buddhistischer Staaten."

In

Religionskonflikte – zur lokalen Topographie eines Globalisierungsphänomens,

herausgegeben von

, 219-249. Innsbruck/Wien: Tyrolia-Verlag.

.

. "Die Rolle der Religion in Transformations- und Entwicklungsprozessen."

In

Religion und globale Entwicklung,

herausgegeben von

, 64-88. Berlin: Berlin University Press.

.

. "Zur Interaktion von Demokratie, traditionellen Ordnungssystem und Gewalt."

In

Ordnungen im Wandel,

herausgegeben von

, 197-216. Bielefeld: Transcript Verlag.

.

. "Sri Lanka vor der Wahl. Auf dem Weg aus 20 Jahren Bürgerkrieg?"

In

Friedensgutachten 2004,

herausgegeben von

, 116-221. Münster/Hamburg/London: Lit.

Reports (Working, Research, Annual Reports)

.

. Möglichkeiten und Chancen einer Beteiligung an EU-Evaluierungs-Projekten und Studien , .