Visiting Professorship for Religion and Politics named after – Hans Blumenberg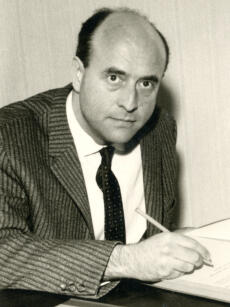 The "Hans Blumenberg Visiting Professorship for Religion and Politics" is named after the Münster philosopher Hans Blumenberg (1920-1996). Following positions in Hamburg, Gießen and Bochum, Hans Blumenberg was professor at the University of Münster from 1970 until his retirement in 1985.
Through his publications, he significantly contributed to redefining the place of the modern age in the historico-scientific and philosophical discussion. He challenged the secularisation thesis predominant at that time, according to which theological patters of interpretation had been persisting since the Middle Ages across the changeover to the modern age and into the modern state.
In his main work, "The Legitimacy of the Modern Age" Blumenberg advocates to interpret the onset of the modern age as an act of human self-assertion against the theological claims for absoluteness of late Medieval thinking. Thus, in critical contrasting with philosophers Carl Schmitt (1888-1985) and Karl Löwith (1897-1973), he was crucial in shaping the secularisation debate that argued from the point of view of the history of ideas. This is considered a major contribution to the theory of historical periodisation and the theory of the modern age.
In his studies dealing with the history of concepts, of ideas, of philosophy and with anthropology, the philosopher also addressed the interpretation of myths and metaphors. For instance, he engaged in anecdotic and essayistic considerations about the theme of the lion. Author Sibylle Lewitscharoff picks up on this theme in her novel, "Blumenberg".
The scholar was a member of the Akademie der Wissenschaften und der Literatur zu Mainz (academy of sciences and literature), of the German Research Foundation's senate (Deutsche Forschungsgemeinschaft, DFG) and of the Senatskommission für Begriffsgeschichte (senate commission for the history of concepts), and he co-founded the research group "Poetik und Hermeneutik" (poetics and hermeneutics). As a young man, he had to stop studying Catholic theology in 1940 as, with a view to his mother's family, he was considered a "half-Jew" in National Socialism. He later studied philosophy, German and classical philology.