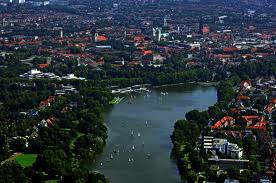 Münster is well reachable by air and rail.
By plane:
The biggest airports in the area are Düsseldorf and Cologne-Bonn, hosting regular airline's as well as regional and low-cost carrier's flights.
Additionally, there are two smaller airports in the area, with limited number of budget airline flights to selected destinations:
Münster-Osnabrück International Airport (FMO). Flights on daily-basis to Frankfurt, Munich, Stuttgart and Zürich. Transfer time to the city by bus: ca. 35-45 mins depending on the bus line, buses leave every half an hour, see schedule.
Dortmund International Airport (DTM). Budget airline flights to some cities in Germany and Europe (London Luton and Stansted among them). Transfer time to Münster (shuttle bus + train): ca. 1h, every hour. Connections with one more change leave more frequently. For exact schedule, please check the Deutsche Bahn webpage.
By train:
Please check the online train timetable of Deutsche Bahn.
Local bus transport:
The online timetable for the local buses is available here.