Publications
Swift Studies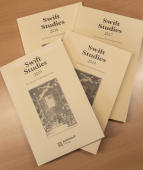 Swift Studies has been the annual of the Friends of the Ehrenpreis Centre since 1986. Its editors invite essays and notes as well as illustrations relating to the text, annotation, and criticism of the works of Jonathan Swift and his circle. Manuscripts may be sent to the editors by email (realh@uni-muenster.de).
Tables of contents of all volumes published to date are available in PDF below.
Swift Studies 2011-2023
Swift Studies 1986-2010
Alphabetical Index of Articles (1986-2023)
 Musical Examples for Swift Studies 2015
Review of article in Swift Studies published by The Guardian: "Gulliver's Travels' nonsense language is based on Hebrew, claims scholar"
Reading Swift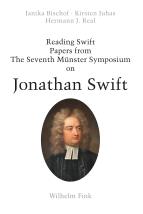 Seven international Münster Symposia on Jonathan Swift have been held at the University of Münster since 1984, bringing together scholars from all over the world to present and discuss their most recent researches.
Janika Bischof, Kirsten Juhas, and Hermann J. Real (eds), Reading Swift: Papers from the Seventh Münster Symposium on Jonathan Swift (Paderborn: Wilhelm Fink 2019).
Table of Contents
Order online
Reading Swift: Papers from the First Six Münster Symposia on Jonathan Swift
Kirsten Juhas, Patrick Müller, and Mascha Hansen (eds), "The first wit of the age": Essays on Swift and his Contemporaries in Honour of Hermann J. Real (Frankfurt on Main: Peter Lang, 2013).
Table of Contents
Order online