Conference Location
The symposium will be held in the lecture halls of the physical institute of the University of Münster, located in the Wilhelm-Klemm-Strasse 10, University Campus of Natural Sciences (red circle in the map below). This is about two km west of the center of Münster.
The bus stop "Coesfelder Kreuz" is close (blue circle). From here there are several bus lines downtown and to the central station (green circle). Free bus rides are available for all registered conference participants during the symposium.
The location of the ice-breaker party on Sunday, September 4, 2011, is in the University building, Münster castle, Schlossplatz 2 (orange circle). For pictures, click here.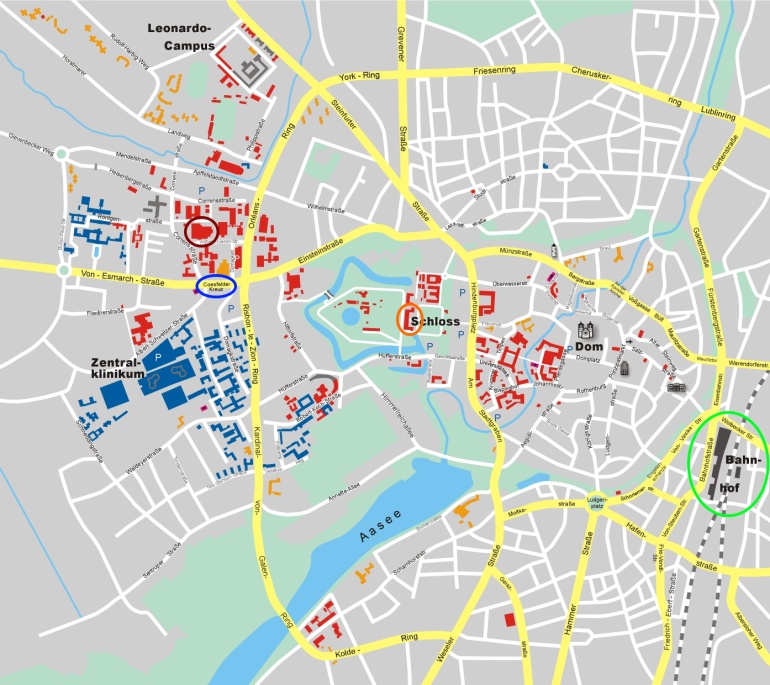 Air travel:
For air travel to Münster, one of the following airports is recommended:
Münster-Osnabrück (FMO): This airport is about 25 km north of Münster. Regular coach service (about 6 Euros) is available as are taxis (about 50 Euros to downtown Münster). On Sunday, September 4, 2011, a free transfer from FMO to Münster city will be organized for conference participants. On Thursday, September 8, 2011, a free transport from Münster city to FMO will likewise be available.
Düsseldorf (DUS): Although it is at a distance of about 120 km from Münster, travelling is fast due to very good train connections (approx. every 30 minutes) from the train station in the airport. One change of trains may be necessary. The train takes about one and a half hours and a one-way ticket is about 26 Euros. Düsseldorf airport has extensive international connections.
Frankfurt (FRA): This is the largest airport in Germany and can be reached in less than three hours by train. The cost is 90 Euros one-way.
Train connections:
Münster has excellent train connections. Go to www.bahn.de for an electronic search. The page is available in several languages (button in the top bar). To reach the corrrect city, enter the destination Münster in the following way: Muenster(Westf)Hbf
For an on-line city map, click here.