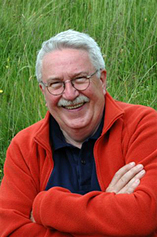 Prof. Dr. Frederikus J. A. Daniels a. D.
Geobotany
Institut für Biologie und Biotechnologie der Pflanzen
Schlossgarten 3
48149 Münster
Tel.:  +49 251 83-23835
Email: Prof. Dr. F. J. A. Daniels a. D.

Raum: EG 10
Curriculum Vitae:
1943: Born in Arnhem, NL.
1955-1961: Education Gymnasium ß, Arnhem.
1961-1968: Study Biology, University of Utrecht.
1968-1987: Staff member Institute of Systematic Botany and Institute of Plant Ecology, University of Utrecht.
1980: PhD Thesis "Vegetation of the Angmagssalik District Southeast Greenland IV. Shrub, Dwarf shrub and Terricolous Lichen Vegetation" (published 1982 in Meddr. Grønland, Bioscience 10).
1987-1995 University-Professor in Geobotany at the Institute of Botany and Botanical Garden and 1995-2008 at the Institute of Plant Ecology.
2008: Retirement. Guest professor of the Institute of Biology and Biotechnology of Plants, University of Münster and of the Institute of Geobotany, Leibniz University, Hannover.