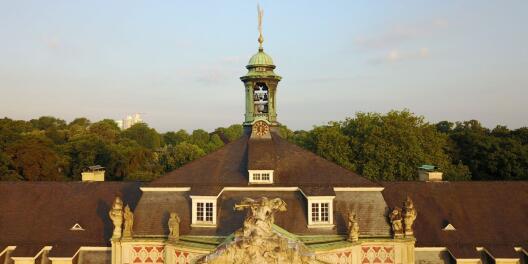 Münster International Peace Research Initiative" (MIPRI)
DFG-project grant: Strengthening Peace and Conflict Studies
The Welcome Centre as part of the International Office of the University of Münster (WWU) convincingly won for the third time, after 2017 and 2019, a price in the concept competition "International Research Marketing". The Germany Research Foundation (DFG) rewarded the concept of the Münster International Peace Research Initiative (MIPRI) with a grant of 100.000 euros, with an additional reward of 50.000 euros for digitalisation. In total eight price winners throughout Germany received a grant for concepts to creatively market Germany as research- and innovation location.
"The aim of our project is to make Münster more visible internationally as a city of peace and the WWU as an excellent research location for peace and conflict research, building on the idea of successful location marketing," explains Dr. Julia Quante of the Welcome Centre, who together with Dr. Astrid Burgbacher conceptualised the project. In the next one and a half years, MIPRI will promote the presence and history of the city of Münster and the excellence of the University of Münster.
The realisation of the concept is partially built on the PeaceHUB, a digital citizens-science platform. The PeaceHUB aids in an interactive exchange between players in the field of peace and conflict studies and the engaged citizens. In addition, the PeaceHUB will also aid in connecting various national and international peace and conflict researchers. The second pillar of the project is the call for international and interdisciplinary peace and conflict research. The awardees of the Münster International Peace Research prize and their research will be presented at the "Münster Summit", a newly initiated event comprised of lectures, concerts and podium discussions, which is organised by the University of Münster in collaboration with the city of Münster. MIPRI is supported by various collaboration partners, locally the city of Münster, local student groups and various players in the peace and conflict community. Internationally, MIPRI is proud to work together with the universities of Hiroshima, São Paulo and California/Berkeley. Additionally, the renowned Scandinavian peace institute PRIO in Oslo are partners of MIPRI.
Background of the concept competition
The concept competition International Research Marketing of the German Research Foundation is part of the initiative "Research in Germany". The initiative promotes Germany as a Research- and Innovation location at world-wide level and provides a platform for international exchange and collaboration. The Federal Ministerium for Education and Research started "Research in Germany" in 2006 and provides funding for the current phase in the project. The initiative is realised by the Germany Acadamic Exchange Service, the DFG, the Frauenhofer-Society, and the DLR Projektträger.
DFG video ideas contest Münster Peace Research Prize-Project