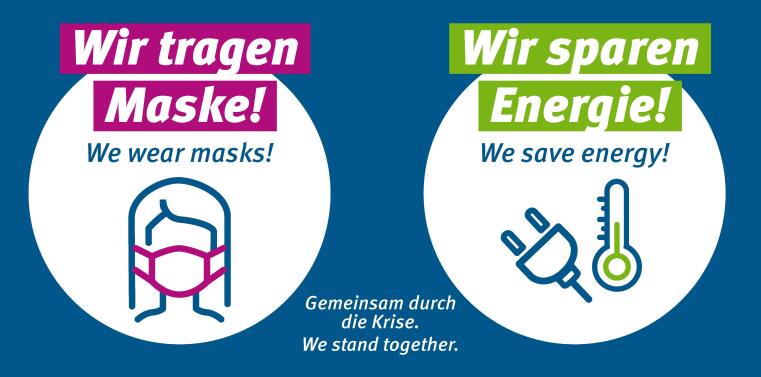 Corona-Rules
Updated: 30 November 2022
The legal basis for the following rules is provided by the current version of the Coronavirus Protection Regulations and other regulations, general rulings and directives issued by the state of North Rhine-Westphalia [de].
In accordance with the applicable legal framework and the NRW Coronavirus Epidemic Higher Education Regulations (CEHVO) the following provisions take effect immediately:
(Different regulations [de] may apply to Faculty 05 and the Medical Campus in all of the following respects.)
Infection protection measures
AHA+L

To limit the risk of infection at the University of Münster as much as possible, we ask everyone to continue following the established hygiene measures. The German acronym AHA+L stands for:

Distancing: Maintain a safe distance of 1.5 m from one another whenever possible.
Hygiene: Observe the rules of coughing/sneezing etiquette (i.e. coughing and sneezing in the crook of one's elbow) and wash your hands thoroughly with soap and water for at least 30 seconds.
Masks: Continue wearing surgical face masks or FFP 2 masks in all University buildings.
Ventilation: Ventilate offices and common rooms regularly to reduce the concentration of viral aerosols. The air is automatically circulated in rooms equipped with technical ventilation systems.

Masks

We strongly recommend that all persons in WWU buildings – i.e. all lecture halls, classrooms and examination rooms – continue wearing surgical or FFP 2 masks. We are convinced that face masks play an important role in preventing the spread of disease. At the same time, we wish to show solidarity with those whose health and well-being depend on the mindfulness of everyone in society. We ask you to continue doing your part for the good of all.
Aside from the risk of Covid-19, this recommendation underscores the potential severity of the upcoming cold and flu season. If you experience cold symptoms, please act responsibly: Wear a face mask and maintain distance from one another even if you test negative for SARS-CoV-2.

Coronavirus vaccinations

At present, no further vaccination campaigns for students or employees are planned at the WWU. If you wish to get your vaccination or booster shots, contact your general practitioner, medical specialist or local vaccination centre. University employees are allowed to get SARS-CoV-2 vaccinations during working hours.
University operation
Teaching activities

As a rule, courses will be held in person during WS 2022/23.

For courses with mandatory attendance, the attendance requirement shall remain suspended in WS 2022/23 in accordance with the NRW Coronavirus Epidemic Higher Education Regulations (CEHVO).

All courses are subject to the framework conditions provided in their regular examination regulations. This means that courses may only take place entirely in digital form if this option is explicitly provided in the regular examination regulations. Naturally, instructors may continue to supplement their courses with digital teaching elements and hybrid teaching forms based on didactic considerations.

For students with a disability and/or chronic illness who can substantiate their inability to participate in in-person courses due to health reasons, compensation for disadvantages can be arranged with their instructors in WS 2022/23. For more information: https://www.uni-muenster.de/studium/hilfeundberatung/studiummitbeeintraechtigung/ansprechpersonen-barrierefreie-lehre-corona.html. The rules pertaining to compensation for disadvantages have not changed for required coursework and degree-relevant examinations. Compensatory alternatives in such cases must be requested as always from the corresponding Examinations Office.

Pregnant students and/or nursing mothers can find information on maternity protection here.

As an employer, the WWU is legally obliged to care for the well-being of its employees. Consequently, the University will consider making an exception to the in-person teaching requirement for those instructors whose health is especially endangered by Covid-19. To be eligible for exemption, the instructor must submit a corresponding medical certificate to Dept. 3 (corona.personal@uni-muenster.de) via the responsible Dean's Office. To ensure a fair and standardised procedure, Dept. 3 is responsible for making the final decision on such matters.

Examination activities

As a rule, examinations will be conducted in person during WS 2022/23.

The CEHVO stipulates that all examinations assigned to WS 2022/23 are subject to the regulatory framework provided in the regular examination regulations. This means that electronic or online examinations may only be administered – as before the pandemic – if such an option is provided in the respective examination regulations. In degree programmes whose examination regulations include provisions on electronic or online examinations, these forms may continue to be offered as before. As in SS 2022, the Rectorate has passed a resolution providing an electronic/online examination option to students in all degree programmes: "Amtlichen Bekanntmachungen", Ausgabe 40/2022 The respective Dean's Offices are responsible for deciding on the modalities of the corresponding examinations. Please contact the Dean's Office or Examinations Office in advance for more details on the approved modalities.

The  rules regarding free attempts, the conditions for withdrawing from examinations and the possibility of retaking examinations to improve one's grades are now governed by the regular examination regulations for exams assigned to WS 2022/23. University-wide rules regarding free attempts, grade improvement etc. were discontinued in SS 2022.

For examinations assigned to one of the four semesters between SS 2020 and WS 2021/22 (e.g. retakes of examinations assigned to WS 2021/22), special exemptions enacted during the coronavirus pandemic in compliance with the CEHVO or specific directives issued by the Rectorate for the respective degree programmes remain in place. This also applies to general regulations mandated by the CEHVO on free attempts, withdrawal from examinations and grade improvement options.

If you have further questions, please contact the Examinations Office responsible for your examination regulations: https://www.uni-muenster.de/wwu/fak_fb/pruefungsaemter.shtml

Committees

All University committees may continue to convene electronically in WS 2022/23. The committee chairperson is responsible for deciding on the mode of conducting the meetings (digital, hybrid or in-person).

3G- and 2G-status checks

The University is no longer required to verify students' 3G or 2G status as a prerequisite for participating in courses or examinations, and no future regulations in this matter are planned.

Home office rules

The contractual provisions regarding flexible workplaces apply once again to all non-academic staff, as well as academic staff at the ULB, WWU IT and University Sports.

For all other academic staff, it is still possible to make individual arrangements on working times and workplaces in coordination with one's supervisor. Such arrangements may be of larger scope, provided that all job-related tasks are completed and regular operations are ensured.

Non-teaching-related events (conferences, congresses, etc.)

Non-teaching-related events may take place in person. Please observe all rules which are in effect at the time of the event.
Energy-saving measures
Updated: 29 September 2022
In view of the pending energy crisis, the University of Münster is not only required to cut back on energy consumption, but also wishes to save energy wherever possible. The German federal government has announced its goal to reduce energy consumption at universities by 20 % compared to the past five-year average. To achieve this goal, we will be implementing various measures which meet or even exceed the mandates provided in the following laws and regulations:
The WWU is determined to mitigate the impact of these measures on students and staff as much as possible. However, in order to achieve the legally mandated energy-saving goal, some cut-backs will be unavoidable and may adversely affect our comfort zones in our day-to-day work, instruction, research and study at the WWU.
Please note that the following measures may deviate from those implemented at the Faculty of Medicine (FB 05) and the medical campus.
Centrally organised energy-saving measures – General measures
Maximum office temperature of 19 °C (e.g. offices, lecture halls, seminar rooms, labs)

In accordance with federal regulations (EnSikuMaV), the temperature may not exceed 19 °C in offices where employees complete physically less strenuous activities sitting down. Although we have implemented technical measures to reduce overall heating, meeting this requirement will depend largely on your heating and ventilation behaviour.

Please make sure the thermostats on the radiators in your offices and workrooms are turned to a position between 2 and 3. If the temperature in your office exceeds 19 °C despite the technical measures already taken, please lower the thermostats manually.
If your thermostat is malfunctioning, contact the responsible building manager.
When offices are not in use (e.g. on home-office days or at weekends), please adjust the thermostats to position 1. Also note that upon returning to work on Monday morning, your offices will not yet be heated to 19 °C.
Compensating for temporary discomfort, e.g. by using heater fans, is not permitted!

No heating for common areas inside buildings

Heating is not permitted in common areas in WWU buildings where individuals only visit or pass through temporarily (foyers, corridors, tea kitchens etc.).

Cold water instead of hot water

Tap water heating systems which deliver hot water through the taps in tea kitchens or sanitary facilities have been or will be switched off.

Restricted swimming pool operation

Similar to measures in place for municipal bathing facilities, the water temperature of the University swimming pool will be gradually reduced along with its opening hours during the winter.

Outdoor and building illumination

Buildings (e.g. the Schloss) will no longer be illuminated at night. Naturally this measure does not apply to safety and emergency lighting (pathway illumination etc.).
Supplementary lighting, e.g. at bike stands, will be shut off between 10 pm and 6 am and between 9 am and 4 pm. This does not apply to safety and emergency lighting.

Ventilation systems in standard operation mode

Ventilation systems in the lecture halls are operating in standard mode. This means that the air in lecture halls is automatically circulated should the system's sensors detect deterioration of air quality.

IT infrastructure

The WWU IT infrastructure can be partially and/or temporarily shut down to help save energy if necessary. None of these potential measures have been taken (yet) in order to avoid adversely affecting the regular operations of the WWU. However, depending on the severity of the energy crisis, some of these measures may have to be implemented in the short term.

Energy-efficient lighting

In recent years the University of Münster has been successively replacing inefficient lighting with energy-saving LED units. This measure will continue in the future.
Special measure
Building closure from 24 Dec. 2022 to 8 Jan. 2023

The University of Münster will be able to save a considerable amount of energy by simply closing buildings during the Christmas holidays from 24 Dec. 2022 to 8 Jan. 2023. This means:

From 24 Dec. 2022 to 8 Jan. 2023, the WWU will enter so-called "energy-reduction mode" during which time the indoor temperature of buildings – and especially offices – will be reduced from 19 °C to about 16-17 °C. This does not apply to residential units, such as guest accommodations etc.
WWU buildings will be closed during this period. Employees will only be permitted access by using personal keys or transponders. If entry is not possible using personal keys or transponders, employees will be allowed inside the buildings at prearranged times. Employees will be notified of the entrance times via notice board or similar channels.
During the holidays, (cross-disciplinary) students will only have some 1,500 workstations/carrels at their disposal at several central libraries. The following libraries will remain open and heated at 19 °C during this period:

ULB central library at Krummer Timpen
Law department libraries I
Library at the Faculty of Medicine

The other libraries will be closed between 24 Dec. 2022 and 8 Jan. 2023.

What this concretely means for employees

Please try to take holiday or reduce your overtime hours during this period if you haven't planned so already.
If your work cannot be postponed due to its nature and can be performed at home, please arrange to complete your tasks in your home office if possible. Supervisory staff are instructed to coordinate these activities with employees in their departments so that those who cannot take holiday or reduce overtime have the possibility of working from home.

For base-level employees with flexible workplace provisions in their employment contracts, the days from 2-8 January 2023  will not be deducted from their allotted 30 days/year.
For advanced- and special-level employees, any home office days taken between 24 Dec. 2022 and 8 Jan. 2023 will be calculated as regular home office days . We assume that these days will be compensated over the course of the following 51 weeks and that employees will suffer no disadvantages due to this measure by year-end.

Employees who can neither take holiday or work from a home office, or who must complete at least some of their tasks in person at the WWU, will be allowed to do so in exception to the rule. We ask these employees (researchers involved in on-site projects, animal keepers etc.) to speak with their supervisors about the tasks they must complete during this period. The University management assumes that any colleagues present inside the buildings between 24 Dec. 2022 and 8 Jan. 2023 will be conducting their activities standing up or walking. Physically less strenuous activities which can be completed sitting down should not be undertaken at the facilities during this time.
All employees who must complete less strenuous activities mainly sitting down between 24 Dec. 2022 and 8 Jan. 2023 and can neither take holiday nor work from home should notify us by email at kanzlerbuero@uni-muenster.de (with their supervisor in CC) by 30 Nov. 2022 at the latest. The University will provide you a room or building which will be heated to 19 °C. Employees are responsible for bringing for their own working materials and necessary equipment (including hardware, e.g. laptops). Please make the necessary arrangements in advance.
If you have planned special courses or events during this time, please provide us with the corresponding data in advance by email to krisenstab@uni-muenster.de.

What this concretely means for students

The University buildings will be completely closed to students from 24 Dec. 2022 to 8 Jan. 2023.

Students will still have access to numerous resource materials and literature during this period at the following branch libraries:

ULB central library at Krummer Timpen
Law department libraries I and II
Library at the Faculty of Medicine

There will also be a sufficient number of workplaces heated to 19 °C for those preparing for examinations. Students will be allowed to wear coats and jackets in the ULB main library at Krummer Timpen.

For branch libraries closed during this period, students will generally be granted extensions on borrowed books and media to make it easier to prepare for examinations. Please inquire about these possibilities at the respective libraries in advance.
Individual energy-saving measures
Facilities

University facilities are welcome to develop their own energy-saving measures and can implement these within their scope of responsibility without prior approval from the crisis management team. If your unit has developed special energy-saving measures, please share your ideas with us at krisenstab@uni-muenster.de so that we can forward them to other units as best-practice examples.

The last one out turns off the lights!

Reducing our energy consumption by 20 % compared with the past five-year average cannot be entirely achieved through centrally organised measures. Each of us must work together and do their part to achieve this ambitious goal.

We can save energy simply by turning off the lights. Lights should only be on when they are actually needed. And if you're the last one to leave the room, please turn off the lights! During your working day, check if any lights are unnecessarily on and switch them off. In offices with multiple light sources and separate switches, only turn those lights on which you absolutely need for your work.

The same applies to radiators. Make sure that radiators in rooms which require no heating are turned down to position 1.

For more ideas on how you can save energy at work and at home: https://www.uni-muenster.de/profil/nachhaltigkeit/energiespartipps.html
Study