Graduation Ceremony at the Institute of Sports Sciences
Photos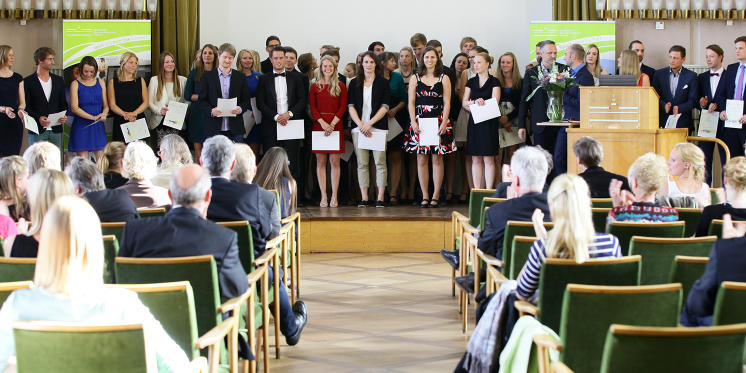 Photos
The Sports Science´s Fifth Spring-Party and Graduation Ceremony at the MünsterSchloss
On April 21st 2017, the fifth spring celebration took place at the auditorium in the Münster Castle. This occasion was also used, to say goodbye to about 60 sports students, who completed their master's or bachelor's degree in the year of 2016.
In her festive speech, the vice principle for strategic human resource development at the WWU Münster, Prof. Dr. Maike Tietjens encouraged all graduates to stay focused on, and never stop believing in their personal goals in life. Prof. Dr. Nils Neuber and Dr. Dennis Dreiskämper summarized the completed years at university and tried to remind the students of their successful years. Jan Schafflik represented the student association and gave his best wishes to all graduates. During the festivities, the best bachelor's graduates were honored. The best final grades were accomplished by Leonie von Bruck, Corinna Wionzeck and Lena Henning.
Aditionally, the best master's theses of each sports faculty were honored. The best students in this category were Franziska Donders (Sports Psychology), Oliver Spieker (Education and Teaching), and Goran Mikic (Sports History / Sports Pedagogics). Next to these academic distinctions for the students, the doctoral candidates of 2016 (Dr. Dennis Riedl, Sport Psychology, and Dr. Roman Mürkens, Sports History and Pedagogics) were honored. A special moment during this year's spring festivities was the honoring of special feats accomplished by faculty and staff of the WWU Sports Science team. The first feat was accomplished by Prof. Dr. Dr. hc. Roland Naul, who was granted an honorary doctorate by the University of Prague. This is very rare in the field of Sports Sciences. Markus Jürgens was honored for his recent world record in backwards-running a marathon, and Dr. Marcel Reinold was honored for bringing the DOSB-Research-Prize to Münster. He received this for his doctorate theses about "Doping as a construct". Standing ovations were due, when Juliane Schlechter said her farewells after 72 semesters at the WWU. The following party in the Schlossgarten-Café once again proved why IfS is so well known for events of this kind.
Pictures can be found below.
Dr. Dennis Dreiskämper