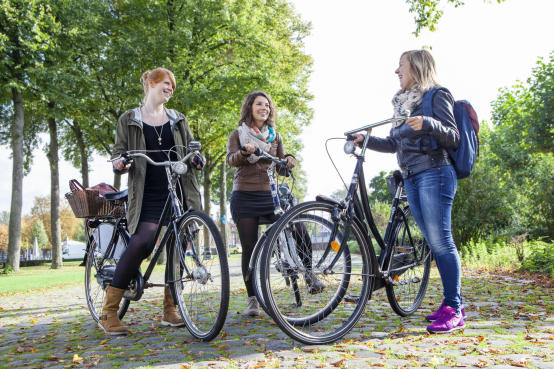 Getting around Münster and surroundings...

... that means, above all: travelling by bicycle. The bicycle, in the Westphalian dialect also called "Leeze", is the principal means of transport in Münster. Bikers enjoy many benefits in traffic and they have to share the promenade, the green belt around the city, only with pedestrians - other vehicles are not allowed there. For this reason and because of the very well developed bike paths, Münster has the reputation of a very bicycle-friendly city. Due to the countless bikes, however, it might sometimes take a little longer for you to find a parking space for your own "Leeze".
Bike Tips:
Low priced bike repairs can best be done at the Youth Centre Gleis 22 (website in German).
The bike station "Radstation" [de] (website in German) at the main train station offers a total of 3,300 secure bicycle parking spaces and the facility to hire bicycles.
Also, the Münsterland region can be explored well by bike [de] (website in German).
NRW semester ticket
The semester ticket is included in the semester fee each student has to pay. It is valid for one semester. After enrolling or re-registration it is sent to each student or doctoral candidate together with the regular semester documents. The NRW semester ticket entitles you to free use of the entire public transport network in North Rhine-Westphalia, including the transport of Deutsche Bahn and private rail operators. So with the ticket buses, trams, subways, urban trains and rail transport in the second class in North Rhine-Westphalia can be used. In addition, the ticket includes the regional train to Osnabrück and Enschede. In some cases the NRW semester ticket can be recompensed. Information on this is available at the AStA [de] (website in German).
Public Transport
Of course the NRW semester ticket also entitles to free use of public transport in and around Münster. Stadtwerke Münster provides a dense network of buses within the city area. At night, different schedules apply to these buses than during the day.
Route networks and timetables can be found here [de] (website in German).
Airport
The International Airport Münster-Osnabrück (FMO) can be reached conveniently by shuttle service at any time from the main station Münster. This route is also covered by the semester ticket. From the airport a total of 65 destinations are served by 14 airlines. The major international airports in Düsseldorf, Amsterdam or Frankfurt are within easy reach of Münster.