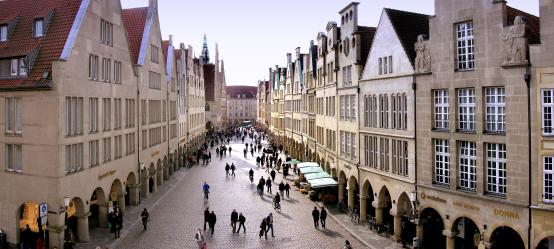 City of universities and bikes
Approximately 280,000 people live in Münster, nearly 50,000 of them studying at one of Münster's universities. WWU alone has more than 37,000 students. It thus represents by far the largest university in town. Therefore, Münster can be called a university town with good reason.
But Münster is also a bicycle town: bicycles are a very popular way of transportation, the countless bikes (also called 'Leezen') characterize the cityscape in a special way, and bikers enjoy many benefits on Münster's roads.
Particularly liveable
Since 2004 Münster is known for its quality of life - because in that year the city was awarded with the LivCom Award as the most liveable city in the world in the category of cities with 200,000 to 750,000 inhabitants.
A city with history
As the city of the Peace of Westphalia, Münster is not only very liveable, but also a place where history was written. More on the city's history can be found here.