"Golden Leaves and Burned Books"
Religious Reform and Conflict in the Long European Reformation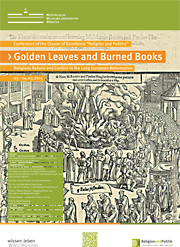 In processes of religious reform, books and other forms of written communication play a dominant role, both for individuals as well as for communities. Covering the period from the late Middle Ages to the Reformation in the sixteenth century, the colloquium focuses on various forms of textual as well as pictorial communication. Presentations reflect on the use of books in religious reform movements and their impact on lay people and monastic communities. For those committed to religious renewal, books are the necessary and often enthusiastically welcomed vehicles for the transmission of religious reform concepts. They are at the same time often objects of severe opposition and negative reactions in attempts at hindering or reversing religious reform.
The colloquium combines contributions from the current research of two related projects on religious reform in late medieval and early modern Europe: the project 'Modus Vivendi - Religious Reform and the Laity in late Medieval Europe', based in the Department of Cultural History at the University of Turku and funded by the Academy of Finland, and the projects 'The Book as a Weapon in Religio-Political Conflicts' and 'The Censorship and Destruction of Books in Late Medieval and Early Modern England' at the Cluster of Excellence, Münster.
The researchers make use of approaches from cultural history, book history and English studies. Contributions range from theory and practices of religious reform with special regard to the interaction between the laity and religious orders in their search for models of 'good religious living' to research on the changing processes of communication from manuscript to print and their impact on religious renewal.
Conference "Golden Leaves and Burned Books. Religious Reform and Conflict in the Long European Reformation", 3. und 4. März 2015
Hörsaalgebäude des Exzellenzclusters
Raum JO 101
Johannisstraße 4
48143 Münster
Programme
Tuesday, 03.03.2015

09:00-9:45
Introduction
Gabriele Müller-Oberhäuser, Münster, Marjo Kaartinen, Turku
09:45-10:30
Beyond the Leaves of a Manuscript: The Function of the Illustration in Romanesque Liturgical Lectionaries
Teemu Immonen, Turku
11:00-11:45
A Book Symbolizing Thomas Aquinas
Marika Räsänen, Turku
11:45-12:30
Sister-Books in the Service of the Observant Reform
Meri Heinonen, Turku
14:30-15:15
The Role of Pamphlets in Inner-Church Conflicts in Late-Medieval England
Eva Schaten, Münster
15:15-16:00
Against the Heresies: Waldenses, Wycliffe and Hus in Fifteenth-Century Manuscripts
Reima Välimäki, Turku
16:30-17:15
Bible Reading in the English Reformation: The 'Simple Reader' between Free Access to the Bible and Reading Restrictions
Uta Schleiermacher, Münster
17:15-18:00
Discussion

Wednesday, 04.03.2015

09:30-10:15
Physical and Verbal Violence: Persecuted Protestant Communities during the Reign of Mary I (1553-1558)
Gabriele Müller-Oberhäuser, Münster
10:15-11:00
Concepts of Violent Language: The Word as a Weapon in the Marprelate Controversy (1588/89)
Sarah Ströer, Münster
11:30-13:00
Final Discussion