Law and Peace: Debates on Political Ethics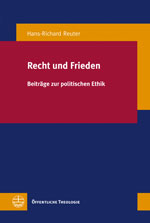 To provide for law and peace by means of the threat and exercise of power is – according to Protestant doctrine – one of the tasks of the state, which must be fulfilled autonomously but ethically. At the beginning of the 21st century the lines of conflict between law and justice, peace and violence, religion and politics have intensified. They are the subject of controversial debates, which point to basic problems of political ethics. The contributions of this volume analyze the traditions of the Protestant understanding of law and justice, war and peace, and develop the model of a just peace based on the idea of human rights. Furthermore, they are concerned with disputed issues such as a legitimate use of military force, but also a liberal legal order of the relationship between state and religion.
Reference: Hans-Richard Reuter: "Recht und Frieden. Beiträge zur politischen Ethik", Reihe "Öffentliche Theologie" 28, Leipzig, Evangelische Verlagsanstalt, 2013. ISBN 978-3-374-03179-5, 38 Euro.