Seismo-news
Congratulations to Dr. Anne-Sophie Reiss for receiving her PhD degree!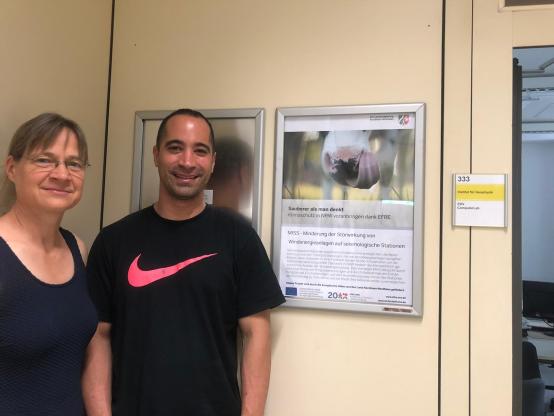 Dr. Sebastian Rost spends another 2 months at the institute for his sabbatical. Welcome again!
Anne-Sophie Reiss has submitted her PhD. Congratulations. Viva is on May 24th.
Aniko, Jana and Nils have finished their MSc theses and have left Münster now.
Dr. Xiaolong Ma has left again after a successful 1,5 years and has gone back to China for now.
Deep Earth Mini Symposium: 17 Dec 2018 from 9.00 - 18.00
Talks by: Jennifer Jackson (Caltech), Jeroen Ristema (Ann Arbor), Sebastian Rost (Leeds), Laura Cobden (Utrecht), Michael Grund (KIT), Bernhard Schuberth (Munich), Ulrich  Hansen (Münster), Andreas Stracke (Münster), Carmen Sanchez-Valle (Münster), Morvarid Saki (Münster), Tobias Grützner (Münster), Angelo Pisconti (Münster)
Anyone is invited to attend!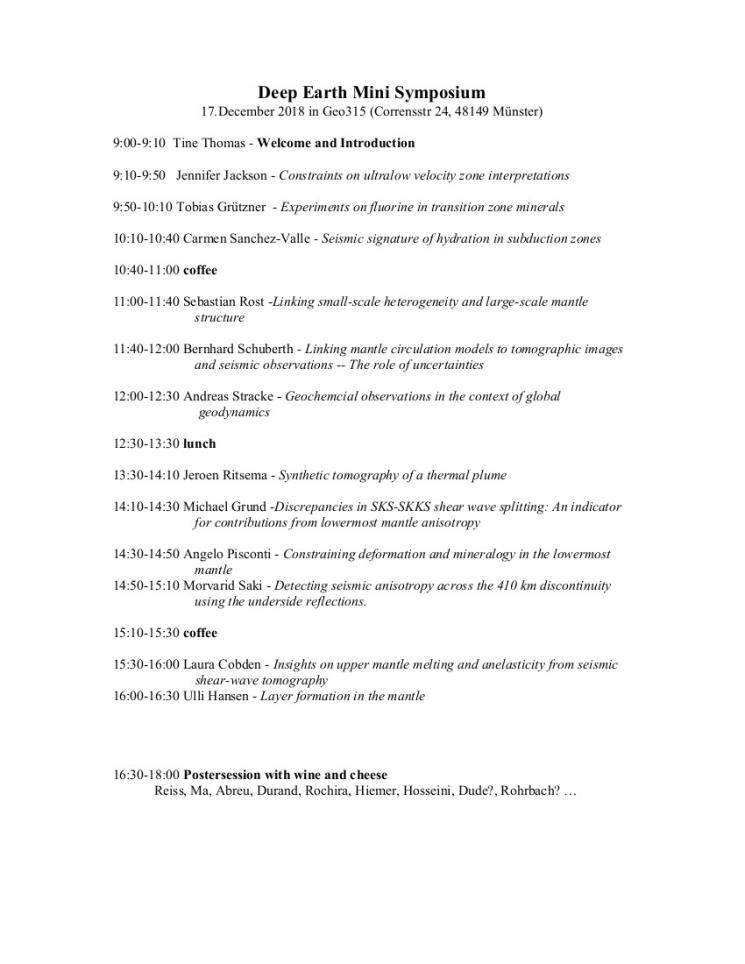 The seismology group at the Christmas market 2018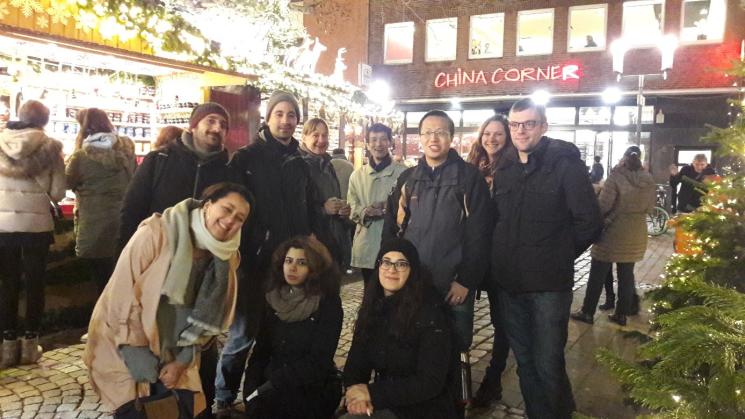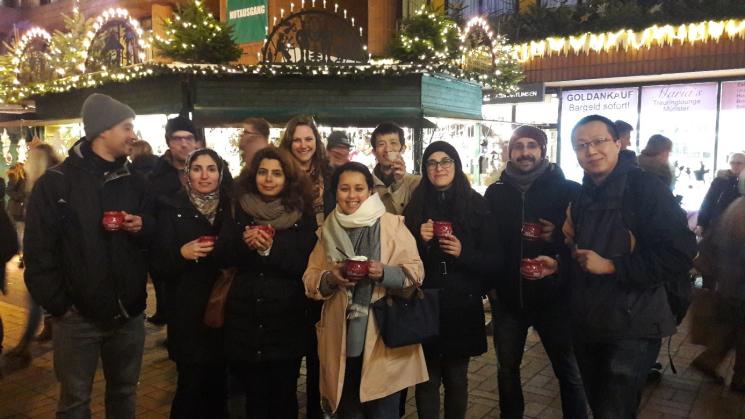 Welcome to Rûna Tent from the University of Utrecht, who is carrying out an internship at the Institute of Geophysics, working on layering in the core also in collaboration with Prof Kansehima, Prof Arwen Deuss (Utrecht)
 We are greeting Prof Satoshi Kaneshima who is visiting the Institute for 1 week (Dec 2-7th). He gives a talk on seismic scattering near subduction zones.
We are planning a Deep Earth Mini Symposium on Dec. 17th 2018. 
Guests include Jeroen Ritsema, Jennifer Jackson, Sebastian Rost, Thorsten Kleine, Andreas Stracke, Carmen Sanchez-Valle, Stephan Klemme, Arno Rohrbach, Ulli Hansen and Tine Thomas. Program will be posted soon.
Welcome to Dr. Sebastian Rost (Leeds) who is spending part of his sabbatical here.
Welcome to Dr. Ghizlane Bouskri, who started her postdoc in the Seismology group. Ghizlane is working on scattering and attenuation esp. in the Morocco region.
Dr. Stéphanie Durand will leave the Seismology group in January to take up a CNRS position in Lyon. Well done, Stéphanie!
 Jennifer Jackson gave a short course on mineral geophysics in the Institute of Geophysics for all interested students, PhD students and postdocs. The course was well received by all participants.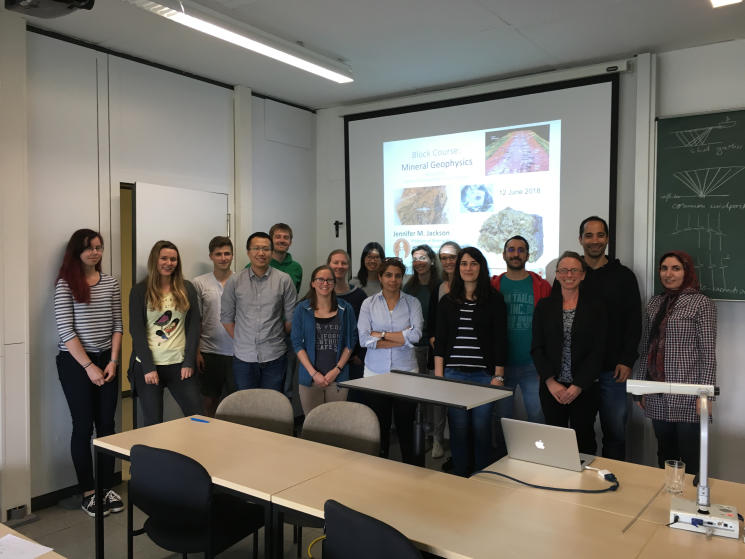 Prof. Dr. Jennifer M. Jackson from Caltech, SeismoLab, is spending part of her sabbatical in the seismology group. We welcome Jennifer.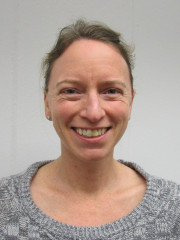 1st TIMEleSS workshop in Münster, March 13th to 16th  2018. We welcome the TIMEleSS participants from GFZ and Lille
We welcome Federica Rochira who will start as PhD student on March 1st, working in the TIMEleSS project.
Several new papers accepted! Well done authors!
The current seismo group (Anne-Sophie and Aniko are missing), listening to Ed Garnero's talk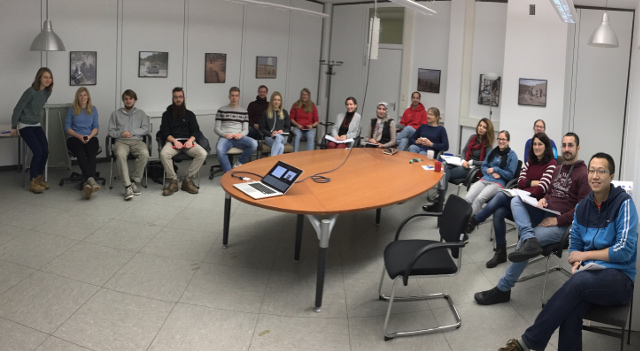 We welcome Samira Hosseini who will start her PhD on Dec 1st
The new MSc Students have started. We would like to welcome Nils, Jana, Aniko, Sandra and Alexander.
The Münster Seismology group at the AG Seismology meeting in Bad Breisig 226-28.9.2017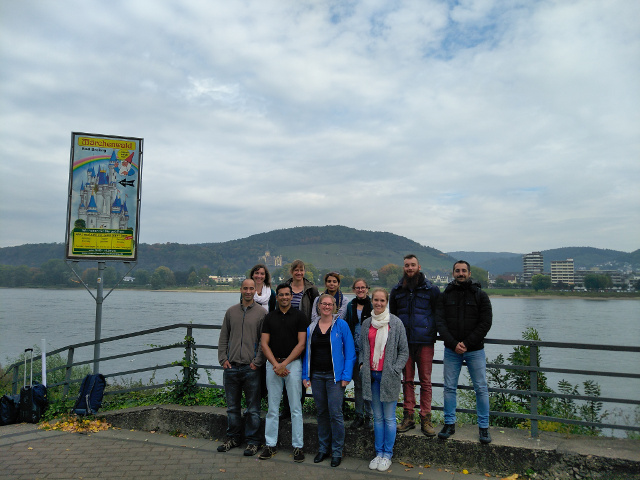 We have secured funding with Prof Jennifer Jackson (Caltech) to spend 3 months of her sabbatical in the Institute of Geophysics in Münster
Vanessa Hiemer (MSc from Potsdam) will join the seismo group as PhD student on September 1st.
Xiaolong Ma will join the seismo group as postdoc. He is funded by the CSC - DAAD and will arrive from China on October 1st.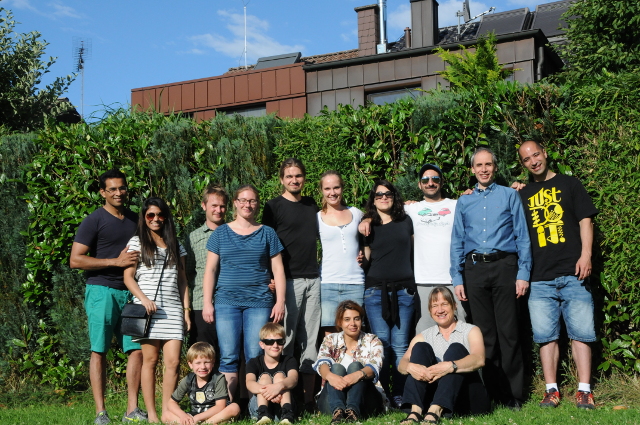 Seismo-Group excursion to the Eifel (17./18.06.2017)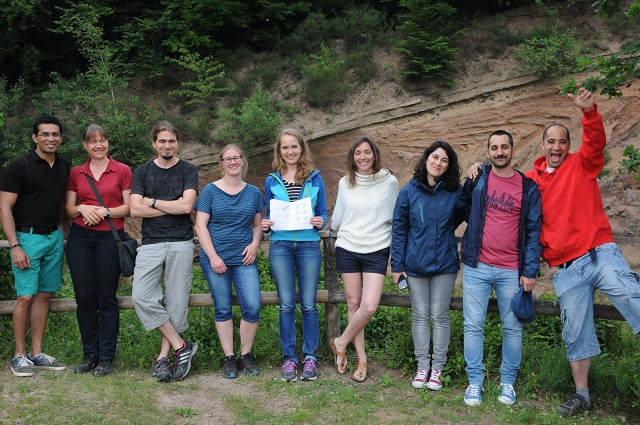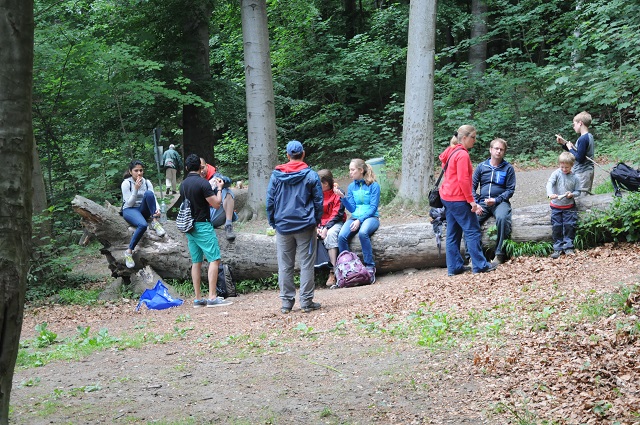 2 new PhD positions in seismology starting in September 2017
February 2017: Morvarid gets her PhD!
March 2016: Stéphanie Durand joins the seismo group. She is funded by a DFG eigene Stelle project (HAADES).
Seismology-Mineral physics short course for PhD students:
First course in Münster

Next course planned for 2017     
Deployment of ALP (UNIBRA) stations (with a feature in "postcards from the field" in EOS)
Visit to station KAST near Kahler Asten march 2015