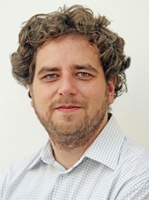 Research Areas

Mechanisms of mineral replacement reactions
Partitioning of halogens and trace elements between fluid and apatite
Fluid-rock interaction
Role of halogens during hydrothermal mobilization and transport of elements
Experimental petrology

Education

since

Doctoral student: Geoscience, WWU Münster

-

Diploma Student: Mineralogy, University of Kiel

Projects

Halogen concentrations and stable CI isotopes in apatite as a fluid probe: mapping regional-scale fluid pulses by CI-isotopes ( - )
Third-party funding : DFG - Individual Grants Programme | Project Number: JO 349/3-1

Publications

.

(). Halogen element and stable chlorine isotope fractionation caused by fluid-rock interaction (Bamble sector SE Norway). Journal of Petrology, 56(2), 299-324.

.

(). Apatite as probe for the halogen composition of metamorphic fluids (Bamble Sector SE Norway). Contributions to Mineralogy and Petrology, 000. [Submitted]

.

(). Distribution of Halogens between Fluid and Apatite during fluid-mediated replacement processes. Geochimica et Cosmochimica Acta, 170, 225–246. doi: 10.1016/j.gca.2015.08.023.

Articles in Journals

Chemical Geology, 380(null), 27-40. doi: 10.1016/j.chemgeo.2014.04.016.
(). Pseudomorphic replacement of diopside during interaction with (Ni,Mg)Cl2 aqueous solutions: Implications for the Ni-enrichment mechanism in talc- and serpentine-type phases.

Conference Articles

.

(). Behavior of Sr and Y during apatite replacement – insights from Hydrothermal Diamond Anvil Cell experiments. In DMG, Jena , p. 293.

.

(). Fluid evolution during a regional metasomatic event (Bamble Sector, SE Norway): A halogen concentration and chlorine stable isotope study. In EGU, Wien.

.

(). Using apatite to probe halogens during fluid-rock interaction. In DMG Jahrestagung, Tübingen.

.

(). An apatite-halogen based probe for fluid-rock interaction events. In Goldschmidt, Florenz.

.

(). Tracing multiple fluid events in the Bamble Sector, SE Norway: A halogenand chlorine isotope study. In EMC2, Frankfurt.

.

(). Application of halogen concentration and chlorine stable isotopes to decipher the fluid evolution during a regional metasomatic event (Bamble Sector, SE Norway). In AGU, San Fransisco.