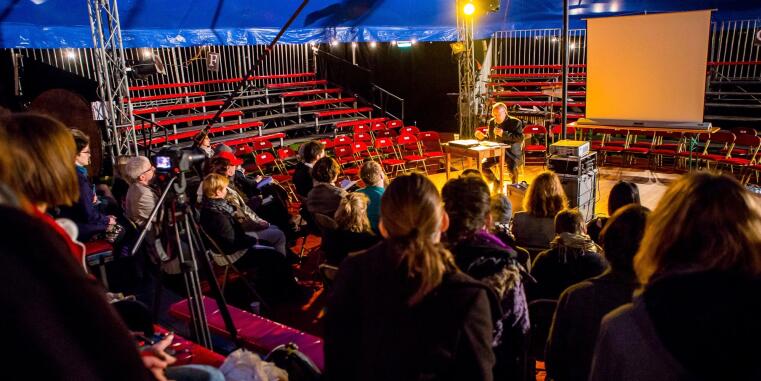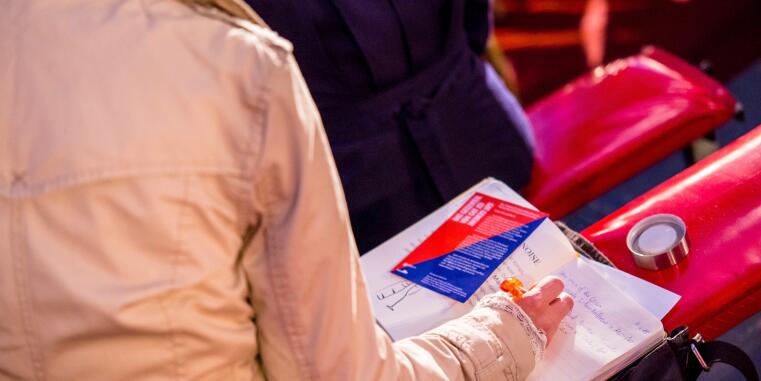 Le cirque bouge, bougez avec lui!

Zirkus | Frankreich in den 1960er/1970er Jahren:
Der traditionelle zirzensische Code ist für die Darbietungen des sich entwickelnden Genres 'Nouveau Cirque' nicht länger konstitutiv. Die Artisten der neuen Form des Zirkus sind keine Sprösslinge aus Zirkusfamilien, sondern Absolventen staatlich anerkannter Zirkusschulen. Tiere werden aus den Programmen verbannt. Das Zelt ist nicht mehr ausschließlicher Ort der Aufführungen. Die Darbietungen des Nouveau Cirque basieren auf den zirzensischen Grunddisziplinen (der Akrobatik, der Objektmanipulation und der Clownerie), die durch theatrale und choreografische Elemente ergänzt werden. Ziel ist es nicht länger durch einen babylonischen Aufbau, der die Elemente nach Schwierigkeitsgrad staffelt, auf die übermenschliche Leistung des Artisten und auf die Besonderheit des gezeigten Tricks  hinzuweisen, sondern vielmehr mithilfe der genutzten Zeichensysteme die Darstellung irgendeiner Art von Geschehen – eine Narration – anzustreben. Das grundlegende Verfahren der Bedeutungskonstitution der zirzensischen Kunst verändert sich.

Ziel der Tagung Semiotics of the Circus ist es, mithilfe der Semiotik der Frage auf den Grund zu gehen, auf welche Weise und unter welchen Bedingungen im Nouveau Cirque in Abhängigkeit vom traditionellen Zirkus Bedeutung erzeugt und übermittelt wird.
Publikation

Wir arbeiten aktuell an der Erstellung des Sammelbands 'Semiotics of the [traditional, new and contemporary] Circus' (Arbeitstitel).
Tagungsprogramm

 

| 15.4. 2015

15:00-17:00    Registration

17:00-18:00   Opening: Prof. Dr. Moritz Baßler, Frédéric Zipperlin and Franziska Trapp

18:00-19:30    Opening Keynote: Jean-Michel Guy | Cultural Ministry France: Le cirque, ça n'existe pas!

            19:30   Champagne Reception

 

| 16.4.2015

| Cirque Bouffon – Zirkuszelt am Schlossplatz

 

Topic I: Semiotics of the Traditional Circus

             9:00    Welcome-Coffee

09:30-11:00   Keynote: Prof. Dr. Paul Bouissac | University of Toronto: The Traditional Circus as Trade and Art

11:00-11:30    Coffee

11:30-12:00    Katharina Rein I Humboldt University Berlin: Entertaining Violence: The Illusion of "Sawing a Woman in Half"

12:00-12:30    Sara Benoist | University of Paris – Sorbonne: "Is there a MC on this Show?": The Semiotic Recycling of Classic Circus Archetypes of Performers in New Circus Performances

12:30-14:00   Lunch Break

 

Topic II: Semiotics of the New Circus

14:00-14:30    Gaia Vimercati | Trinity College Dublin: Chaplin, Brecht, Fo: Toward a Concept of 'Epic Clowning'

14:30-15:00    Sandy Sun | Circus Aerial Choreographer: Mutations of the Meaning and Aesthetics in a Trapeze Act

15:00-15:30    Coffee

 

15:30-16:00    Ante Ursic | New York University: On the Tightwire

16:00-16:30   Elena Lydia Kreusch | University of Vienna: Contemporary Circus and Spatial Implications

16:30-18:00    Keynote: Prof. Dr. Philippe Goudard | University of Montpellier: What does the circus mean? A cross-disciplinary scientific approach

 

| Cirque Bouffon – Zirkuszelt am Schlossplatz

20:00              Cirque Bouffon: Quilombo

 

 

 

| 17.4.2015

| Cirque Bouffon – Zirkuszelt am Schlossplatz

 

Topic III: Possibilities of analysing New Circus Performances

               8:30 Welcome-Coffee

09:00-09:30  Franziska Trapp | University of Münster: The Functioning of a Circensic Text – Jimmy Gonzalez 'Clay'

09:30-10:00   Katharina Görgen | University of Cologne: Completing the Circle: How Traditional Semiotics Reappears in the 30 Year Celebration of the Cirque Plume "Tempus fugit? Une ballade sur le chemin perdu"

10:00-10:30    Coffee

10:30-11:00    Jonas Eklund | Stockholm University: Longing for Something that Never Was

11:00-12:00    Louise von Euler Bjurholm and Henrik Agger | University of Dance and Circus Stockholm: Extreme Symbiosis

12:00-13:30   Lunch Break

13:30-15:00    Keynote: Prof. Dr. Camilla Damkjaer | University of the Arts Stockholm: The Circus Body Articulating

15:00-15:30    Final Discussion

                       

 

| WWU – Festsaal am Schlossplatz

15:30-16:30    Coffee

16:30              Zirkus | Wissenschaft – Strategic Planning Session

20:00              Dinner