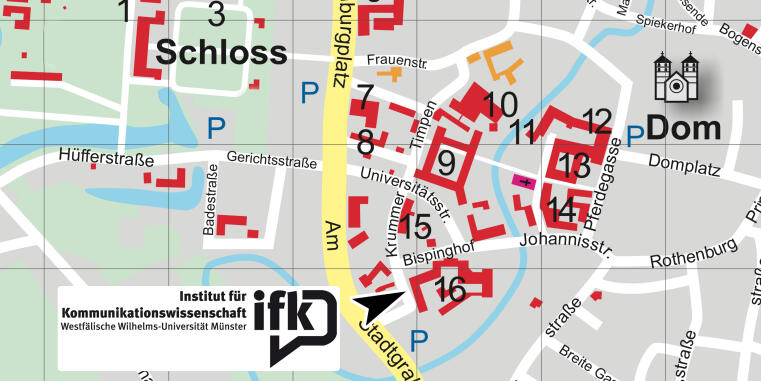 The Department of Communication (IfK) is located in the 2nd floor of building E within the building complex Bispinghof (Bispinghof 9-14, 48143 Münster), right in the city center of Münster.
Here, you find a detailed map of the building complex.
Arrival…
…by train
Münster's main railway station (Münster Westf. Hauptbahnhof) is located in the middle of the city. With its IC, EC and ICE connections, it connects Münster with the metropolises of Germany and Europe. The train from Hamburg or Cologne to Münster takes 2 hours, from Berlin it takes about 3.5 hours and Enschede (NL) is a good hour's train ride away. When you arrive at Münster's main railway station, the IfK is only a 20 minutes' walk or a 10 minutes' bus ride away.
---
…by car
You can reach Münster directly via the A1 and A43 motorways, it takes about 3 hours to travel from Frankfurt a. M., Hamburg or Amsterdam, and about 5 hours to travel from Berlin to Münster.
Just a few meters away from the IfK, you find the multi-storey car park Georgskommende (daily price max. 20 euros). Alternatively, the car can be parked a few hundred meters away in the Cineplex multi-storey car park (daily price only 4 euros) and from there you can take the bus to the city centre.
---
…by bus from Münster's main railway station (ca. 10 Minutes)
From, the main railway station, you can take the city bus lines 1, 11, 12, 13 and 22. They regularly stop at the bus stop "Krummer Timpen", located a minute's walk from the IfK. For more bus timetable information, klick here.