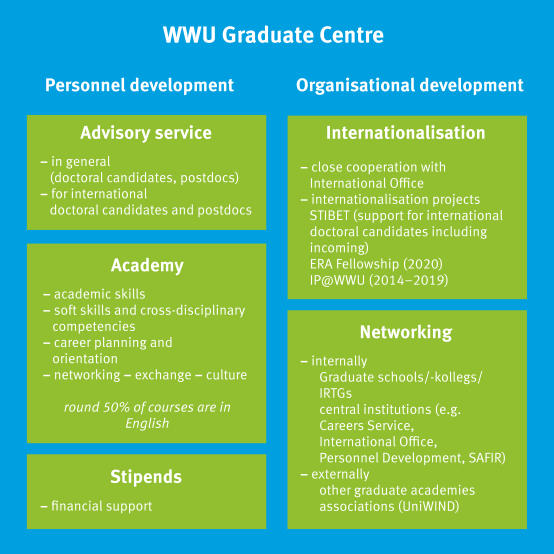 The WWU Graduate Centre – An Institution for Personnel and Institutional Development
The WWU Graduate Centre's aim is to support junior researchers in their qualification and career planning. How can such a comprehensive task be realised in practice? Following the personnel development strategy of organisations in terms of content and methodology, the WWU Graduate Centre is closely aligned with the University's general personnel development policy. The WWU Graduate Centre influences the whole University by providing stimuli for the development of the supporting structures for junior researchers. In this respect the Graduate Centre's work can be seen as a contribution to the organisational development. Our areas of responsibility can be represented as a five-field matrix.
Personnel Development

The measures for personnel development for junior researchers are bundled in our advice services and in our academy.

We advise doctoral applicants, doctoral candidates and postdocs in various concerns: general advice and conflict resolution are offered by Dr. Jan Schmidt. International doctoral applicants and candidates can direct their questions to Coordinator International Doctoral Candidates, whereas Dr. Annah Keige-Huge is the right contact person for postdocs.

The basis our work is the academy. Junior researchers at the University of Münster can participate in our courses and workshops free of charge. These are divided into four modules: (1) academic skills, (2) soft skills and cross-disciplinary competencies, (3) career planning and orientation, and (4) networking – exchange – culture. Our offer consists of course portfolios, which are offered each semester or once per year, and single events. We design the offer by drawing on our own expertise and by contracting external trainers. We work in a professional manner, evaluating and constantly improving all our courses. 50% of the courses are offered in English. 

Organisational Development

The measures for organisational development can be divided into two fields: An important aspect of our work are the measures that contribute to the internationalisation of doctoral studies. These are incorporated in externally funded projects. The project STIBET, which has been well established for a couple of years, provides services for international doctoral candidates in Münster in English. Moreover, we offer stipends and support endeavours for a sustainable internationalisation of doctoral studies.  

Finally, we are dedicated to networking. We do not work in isolation, but rather build networks with institutions and partners within and outside of the University. Our goal is to establish ideal structures to support our junior researchers without offering services or building structures that are already available – which is why we collaborate closely with our partners, and constantly seek new ideas by exchanging with our external collaborators on a regular basis.