Polyionic Complexes
Polyionic complexes (also called coacervates) form between complementarily charged polymer chains, i.e. polycations (e.g. polyamines, biopolymers) and polyanions (e.g. polyacids, DNA). The chains come together in water due to electrostatic attraction to form loose complexes or gels with hydrophobic domains (but without membrane). The release of counterions is the entropic driving force for this complex formation. While polyionic complexes are frequent components in nature in form of soft tissue, they are also very attractive for materials science and nanotechnology.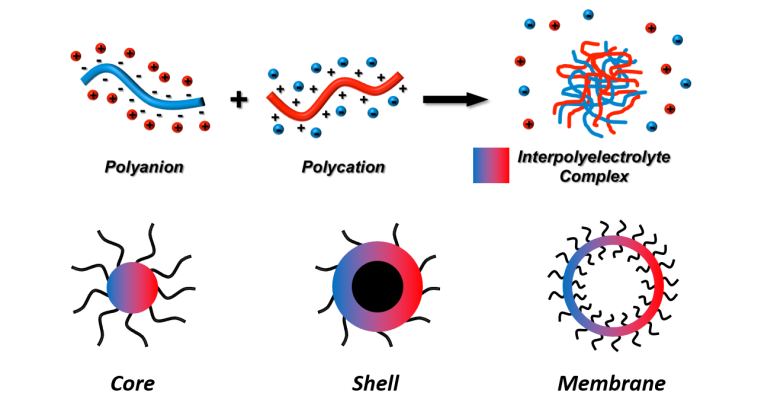 If block copolymers are used instead of homopolymers, IPEC formation creates nanostructures (micelles, morphologies, capsules) whose shape and properties depend on the block copolymer composition and the mixing ratio of the polyions.
We use interpolyelectrolyte complexation as a novel tool to create surface patterns and nanotopographies on micro- and nanoparticles. The latter is of particular interest in drug delivery as the surface structure of a drug carrier is paramount for the interaction of carriers with the cell membrane and thus the internalization process.